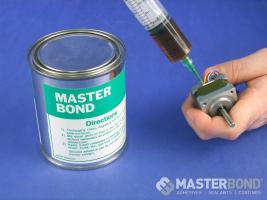 Achievement of high performance cures at low temperatures has long been a problem for epoxy resin compositions. Master Bond Inc. has successfully overcome this problem with a newly developed epoxy resin system called Master Bond EP27. In 6 mil thick films, EP27 will set in as little as 2 hours at only 40°F and will cure in 48-72 hours.
Master Bond EP27 has a convenient non-critical mix ratio of 2 to 1 by weight or volume and a desirable low mixed viscosity of only 2000 cps. The cured epoxy resin system offers outstanding physical strength properties and excellent chemical resistance. Specifically, EP27 features unmatched long term resistance to immersion in such aggressive solvents as ethanol, toluene, butyl cellosolve, 70% sulfuric acid, 30% nitric acid, 50% sodium hydroxide and bleaches. It also has high bond strength to metallic and non metallic substrates.
For Editorial Use
Click below to download this release in the format of your choice.
News Release Images
Click an image to download a high resolution version in JPEG format.