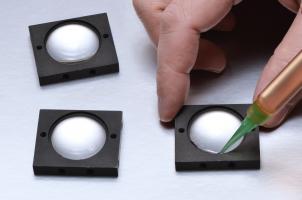 Master Bond EP30LP-2 is a two component epoxy with a low viscosity and a volume resistivity of over 1014 ohm-cm, making it well suited for potting and encapsulation applications. This high performance system can also be used for bonding and sealing.
EP30LP-2 is an easy to handle compound with a convenient two to one mix ratio by weight or volume. A 100 gram batch has a 60-90 minute working life at room temperature, which can be extended by using shallower mixing vessels or mixing smaller size batches. This system is formulated to cure at room temperatures or more rapidly at elevated temperatures.
Featuring a Shore D hardness exceeding 75, EP30LP-2 produces rigid, high strength bonds to a wide variety of substrates including metals, glass, ceramics, wood and many plastics. It offers a tensile lap shear strength of over 2,700 psi, a tensile strength greater than 9,500 psi and a tensile modulus of 350,000-400,000 psi. Additionally, EP30LP-2 is dimensionally stable with low shrinkage upon cure. This chemically resistant product withstands exposures to water, oils, solvents, acids and bases.
Serviceable from -60°F to +250°F, EP30-2 is available for use in standard packaging container kits ranging in size from ½ pints to 5 gallons. It is also available in double barrel syringes and gun dispensers.
For Editorial Use
Click below to download this release in the format of your choice.
News Release Images
Click an image to download a high resolution version in JPEG format.