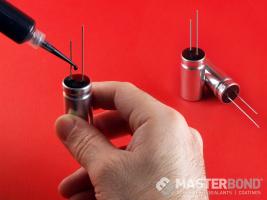 Master Bond EP30M3LV is a specially engineered, low exothermic epoxy system formulated to help avoid excess heat buildup and damage to thermally sensitive components during potting operations. It also contains a special additive to remove air bubbles. This compound cures at room temperatures or more rapidly at elevated temperatures. It can be cured in various cross section thicknesses.
EP30M3LV has superb electrical insulation properties. It has a volume resistivity of 2x1015 ohm cm at 25°C. It has a convenient 2 to 1 mix ratio by weight and an advantageously low mixed viscosity of 2,000-3,000 cps. Adhesion to similar and dissimilar substrates is excellent. Cured castings can resist exposure to various chemicals and thermal cycling. It has a service operating temperature range of -60°F to +250°F. EP30M3LV also has superior dimensional stability. It has a flexural strength of 14,000 psi and a tensile strength of >8,000 psi.
Master Bond EP30M3LV is environmentally friendly, 100% reactive, and contains no solvents or diluents. It is available for use in half-pint, pint, quart, gallon and 5 gallon pail kits.
For Editorial Use
Click below to download this release in the format of your choice.
News Release Images
Click an image to download a high resolution version in JPEG format.