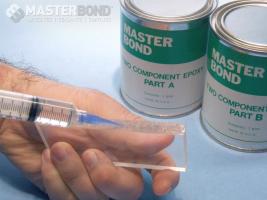 Master Bond Inc has introduced EP30P, a new two component, transparent, low viscosity epoxy system for high performance bonding, sealing, coating, encapsulation and casting. This system has a 4 to 1 mix ratio by weight and is formulated to cure at room temperatures. Cures can be accelerated by the use of heat. EP30P bonds well to a wide variety of substrates including metals, glass, ceramics and many plastics. It has a service operating temperature range of -60°F to +250°F.
Master Bond EP30P is a 100% reactive system and contains no solvents or diluents. It has exceptionally low linear shrinkage upon cure and offers outstanding electrical insulation properties. It forms bonds that are rigid and have high strength. Tensile strength is >9500 psi. EP30P also exhibits superior resistance to water, acids, bases and salts.
Master Bond EP30P is easy to apply. It has a mixed viscosity of 1,200-1,400 cps. It is available in pint, quart, gallon and 5 gallon container kits. It can also be applied with a convenient gun applicator. Shelf life at 75°F is 6 months in original unopened containers.
For Editorial Use
Click below to download this release in the format of your choice.
News Release Images
Click an image to download a high resolution version in JPEG format.