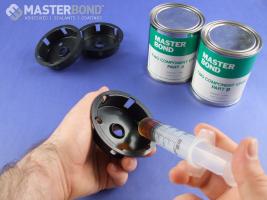 Master Bond has successfully developed a new, highly flexible two component epoxy resin compound called EP40 which features outstanding shear and peel strength and is especially designed for bonding, sealing and casting engineering plastics and metals. This compound has been formulated to cure readily at ambient or more quickly at elevated temperatures with a convenient non-critical one (1) to one (1) mix ratio by weight or volume. Master Bond Polymer System EP40 provides an excellent solution for applications requiring the inherently attractive strength properties of epoxy resins together with enhanced flexibility and peel strength characteristics. Additional desirable performance characteristics of this unique epoxy compound include superior resistance to thermal cycling and mechanical vibration and shock. Electrical insulation properties are excellent, even after prolonged exposure to hostile environmental conditions.
Master Bond Polymer System EP40's low viscosity facilitates bonding, sealing, casting and other processing operations. Its versatile cure schedules further simplify the application of this unique polymer compound. The excellent adhesion of EP40 to a wide variety of substrates ranging from engineering plastics, such as polycarbonates, acrylics and ABS to steel, aluminum and other metals is particularly noteworthy. Shear and peel strength for bonding polycarbonates are in the order of 1000 psi and 20 pli respectively, while steel and aluminum bonds yielded shear strength values as high as 1800 and 1500 psi. EP40 has an impressively wide service temperature range of -100°F to +230°F. EP40 is the preferred choice for many electronic potting and encapsulation applications, and two component adhesives and sealant, coating and composite uses wherever substrates with different thermal expansion properties must be combined to form electronic and/or mechanical assemblies.
For Editorial Use
Click below to download this release in the format of your choice.
News Release Images
Click an image to download a high resolution version in JPEG format.