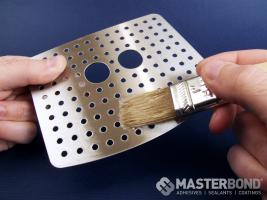 Master Bond is pleased to announce the release of EP42HT-2FG, a new food grade epoxy system. EP42HT-2FG has been independently tested and certified by a leading national laboratory to meet the stringent requirements of FDA CFR 175.300. It also was toxicologically evaluated to meet the NSF/ANSI 51.4.1 (2009) standard for food equipment materials.
Food grade certified epoxy EP42HT-2FG may be used across a wide variety of applications in the food industry, such as bonding and sealing metals, plastics, rubbers and other substrates, commonly found on food service equipment. Featuring high resistance to chemicals and many solvents, along with boiling water, fats and oils, it may be readily used as a coating for storage tanks, bins, hoppers, and other containment vessels. Capable of withstanding extreme conditions over the wide service temperature range of -60°F to +450°F (FDA certification done at the temperatures specified in the test protocol), EP42HT-2FG resists steam, radiation and frozen storage conditions.
With a volume resistivity of over 1014 ohm-cm, EP42HT-2FG also serves as a potting and encapsulation compound for electronic components and devices. It has a low viscosity of 55,000-110,000 cps for Part A and 75-130 cps for Part B at room temperature. This adhesive has a tensile strength greater than 12,000 psi and a tensile lap shear strength exceeding 2,000 psi at 75°F.
This two part epoxy offers easy handling with an open time of 45-75 minutes for a 100 gram mass at 75°F. EP42HT-2FG has convenient color coding (Part A is clear and Part B is amber) for its 100:30 mix ratio by weight. The recommended cure is 3-4 hours at 150-200°F. Alternatively, it can be cured at room temperature overnight followed by a 2-3 hour cure at 150-200°F.
EP42HT-2FG is available for use in half-pint, pint, quart, gallon and five gallon containers. It has a shelf life of one year when stored at room temperature in its original unopened containers.
Frequently Asked Questions
Which food grade specifications does EP42HT-2FG meet?
EP42HT-2FG complies with the FDA 175.105 and 175.300 standards. Master Bond has independently tested this epoxy with a leading laboratory to ensure that it meets the stringent FDA CFR 175.300 food grade testing requirements, as well as NSF/ANSI 51 (2009) Standard for Food Equipment Materials as defined in section 4.1. Master Bond can provide the toxicological review and test report upon request.
Is EP42HT-2FG rated for direct contact with food?
Although EP42HT-2FG is not rated or qualified for applications involving direct food contact, it is suitable for sustained use in indirect food contact type applications.
Can EP42HT-2FG be used to repair items and equipment in a home kitchen?
No. EP42HT-2FG is only intended for industrial bonding, sealing, coating and potting applications and is not suitable for home use. This epoxy requires heat curing (~150-200 F) for at least 3-5 hours, and we highly recommend the use of industrial ovens for the curing process.
Is EP42HT-2FG rated for contact with potable water?
No. EP42HT-2FG is not rated or qualified for use in potable water applications.
What types of chemicals can EP42HT-2FG resist?
EP42HT-2FG offers superior resistance to many solvents, bases/alkalis, boiling water/steam, fats and oils.
Although EP42HT-2FG has passed FDA and NSF/ANSI standards, how important is it for the end user to perform further testing on the final device?
It is the end user's responsibility to consult with the appropriate agencies as well as their own legal and technical experts, in order to qualify the EP42HT-2FG in the context of their application, and obtain the necessary approvals for the final device.
For Editorial Use
Click below to download this release in the format of your choice.
News Release Images
Click an image to download a high resolution version in JPEG format.