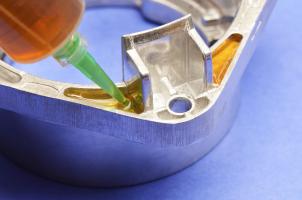 Master Bond EP62-1BF is a two part epoxy featuring the ability to withstand exposure to aggressive chemicals including acids, bases and solvents, even at high temperatures. "We tested the chemical resistance properties of EP62-1BF by taking cured samples of the system and immersing them in a variety of chemicals, like sulfuric acid, toluene, ammonium hydroxide, etc.," said Venkat Nandivada, manager of technical support. "Even after six months, the samples weren't affected by chemicals."
EP62-1BF is easy to handle with a long open time of 12-24 hours at 75°F for a 100 gram batch. It has a non-critical mix ratio of 100 to 5 by weight and offers a variety of cure schedules at moderately elevated temperatures from 140-257°F [60-125°C]. With a mixed viscosity of 2,000-5,000 cps, EP62-1BF can be used for potting small components. Additionally, it has low shrinkage upon curing.
After curing, this compound delivers an impressive strength profile with a tensile lap shear strength of 2,000-2,200 psi, a tensile strength of 8,000-9,000 psi and a tensile modulus of 500,000-550,000 psi. EP62-1BF is thermally stable and has a glass transition temperature (Tg) of 125-135°C and is serviceable over the wide temperature range of -60°F to +400°F [-51°C to +204°C]. This formulation is also a competent electrical insulator with a volume resistivity exceeding 1014 ohm-cm.
Its combination of chemical resistance, thermal stability and physical strength properties enable this product to be used for many applications in the aerospace, electronic and specialty OEM industries. EP62-1BF is available for use in ½ pint, pint, quart, gallon and 5 gallon container kits, as well as premixed and frozen syringes.
For Editorial Use
Click below to download this release in the format of your choice.
News Release Images
Click an image to download a high resolution version in JPEG format.