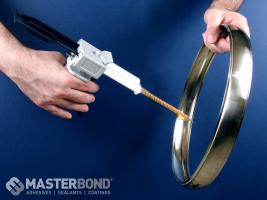 Master Bond EP65HT-1 combines high temperature resistance and fast room temperature curing in a NASA low outgassing approved epoxy. It also offers superior electrical insulation capabilities and strong chemical resistance.
With an extremely high glass transition temperature exceeding 125ºC, EP65HT-1 features fast cure times, even when mixed in small masses. For example, a 10-20 gram mass will cure in 3-5 minutes at room temperature. It is serviceable over the wide temperature range of -60ºF to +400ºF, has a tensile shear strength approaching 3,000 psi, and a Shore D hardness greater than 75.
EP65HT-1 bonds well to a wide range of substrates including metals, glass, ceramics, rubbers, and many plastics, and is widely used in the electrical, electronic, computer, medical, optical, transportation, aerospace, and OEM industries. The adhesive is dark brown in color and is available in a convenient dispensing gun that mixes the parts with a 10 to 1 ratio. It is also available for use in half pint, pint, quart, gallon, and 5 gallon container kits.
For Editorial Use
Click below to download this release in the format of your choice.
News Release Images
Click an image to download a high resolution version in JPEG format.