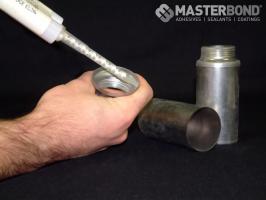 Master Bond EP72M3 is a two component, tough, resilient elastomer modified epoxy adhesive for high performance general purpose bonding.
It is formulated to cure at room temperature or more rapidly at elevated temperatures with a convenient one to one mix ratio, weight or volume. Bonds are resistant to thermal cycling and chemicals including water, gasoline, oils, greases and other petroleum products.
Master Bond EP72M3 has exceptionally high impact resistance and peel strength. Adhesion to metals, glass, ceramics, wood, vulcanized rubbers and many plastics is excellent. The hardened adhesive is an electrical insulator. EP72M3 has a Shore A hardness of 78 and T-peel of >30.
Master Bond EP72M3 is available in pint, quart, gallon and 5 gallon container kits. For ease of usage it is also available in syringes and gun applicators.
For Editorial Use
Click below to download this release in the format of your choice.
News Release Images
Click an image to download a high resolution version in JPEG format.