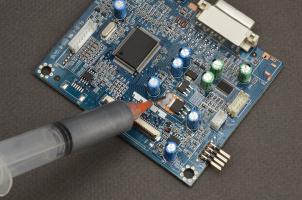 Formulated with a silver coated nickel filler, Master Bond EP79FL is a two part, electrically conductive epoxy for bonding, sealing and coating applications. It has low volume resistivity of less than 0.005 ohm-cm and is suitable for a variety of uses in the electronic, aerospace, computer, semiconductor and electro-optic industries.
In addition to its electrical properties, this system is very flexible upon curing, enabling it to be used in applications involving thermal cycling as well as thermal and mechanical shocks. It adheres well to metals, composites, glass, ceramics, vulcanized rubbers and many plastics while offering a T-peel strength that exceeds 25 pli. EP79FL is serviceable over the wide temperature range of 4K to +275°F allowing it to be used in cryogenic environments. Also, this epoxy is a reliable thermal conductor.
EP79FL has a convenient one to one mix ratio by weight, and it cures readily at room temperature or more rapidly at elevated temperatures. It can be applied with minimal sagging or dripping, even on vertical surfaces. It can be made thinner and flowable by adding 5-10% by weight of an appropriate solvent such as xylene, acetone or MEK.
This epoxy is available in syringes, glass jars or in premixed and frozen syringes. The syringes have a shelf life of 3 months, while the jars have a shelf life of 6 months when stored at room temperature in its original, unopened packaging.
For Editorial Use
Click below to download this release in the format of your choice.
News Release Images
Click an image to download a high resolution version in JPEG format.