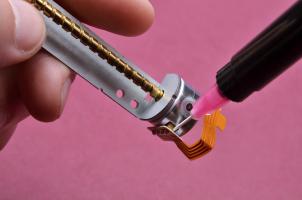 Widely used in the manufacture of disposable medical devices, Master Bond LED403Med is a single component system that passes the plastics test for USP Class VI and ISO 10993-5 cytotoxicity requirements. This medical grade system withstands sterilization methods such as gamma radiation, EtO and various chemical sterilants.
Optically clear LED403Med cures fully tack-free upon exposure to a 405 nm wavelength light source without any oxygen inhibition. In thinner sections, full cures can be achieved in 15-30 seconds. However, the rate of cure depends upon the intensity of light source, the thickness of the layer and the distance of the material from the light. It has a high viscosity but remains flowable and can be used as an adhesive, sealant, coating and encapsulant in sections up to 1/8 inch thick.
Once cured, LED403Med features dimensional stability and resist chemicals including water, many acids, bases and oils. It bonds well to glass, polycarbonates and acrylics as well as metals and other plastics. The adhesive is a competent electrical insulator and offers a solid physical strength profile.
It is serviceable from -60°F to +250°F. Without contact to light, LED403Med has a shelf life of 6 months in its original, unopened containers. It is available for use in syringes, ½ pints, pints, quarts, gallons and 5 gallon pails.
For Editorial Use
Click below to download this release in the format of your choice.
News Release Images
Click an image to download a high resolution version in JPEG format.