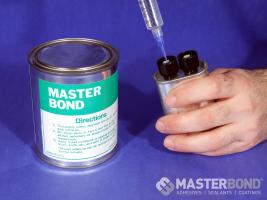 MasterSil 151 is a new two component, low viscosity silicone compound for high performance casting, potting and encapsulation introduced by Master Bond Inc., Hackensack, N.J. This formulation is designed to cure at room temperature or more rapidly at elevated temperatures. MasterSil 151 has superior electrical insulation properties, high tensile strength and superb optical clarity. It has a service operating temperature range of -65°F to +400°F.
MasterSil 151 is tough and flexible. It has an elongation at break of 160% and a Shore A hardness of 45. It has superior resistance to vibration, impact and shock. It also is resistant to thermal cycling. MasterSil 151 has a dielectric strength of 460 volts/mil and a volume resistivity of 1x1015 ohm cm.
Master Bond MasterSil 151 has a 10 to 1 mix ratio by weight. Its low viscosity assures complete fill-in around complicated contours in even very complicated configurations. Shrinkage upon cure is very low. Shelf life in original containers is 6 months at 75°F. MasterSil 151 is available for use in half- pint, pint, quart, gallon and 5 gallon kit containers.
For Editorial Use
Click below to download this release in the format of your choice.
News Release Images
Click an image to download a high resolution version in JPEG format.