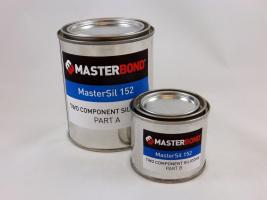 Developed for potting and encapsulation applications where an addition cured silicone cannot be used, Master Bond MasterSil 152 is a two component, condensation curing system that only requires air for complete cross-linking. Unlike addition cured systems, there are no substrates that will inhibit the cure.
This system fully cures at room temperature in 24-48 hours and has low exotherm. MasterSil 152 features low shrinkage upon curing. It has a ten to one mix ratio by weight and delivers a long working life of 6-8 hours after mixing.
MasterSil 152 combines low viscosity and electrical insulation properties with the ability to cure in sections exceeding one inch in thickness, making it well suited for potting and encapsulation. Widely used in electronic and optical components, it is optically clear and can transmit light well from 220-2,500 microns. It has an index of refraction of 1.45.
As is typical for silicones, MasterSil 152 is also highly flexible and can withstand thermal cycling and shock. It is highly resistant to water and is serviceable over the broad temperature range of -65°F to +400°F. This potting and encapsulation compound has a 6 month shelf life at room temperature in its original, unopened containers. It is available in ½ pint, pint, quart, gallon and 5 gallon container kits.
For Editorial Use
Click below to download this release in the format of your choice.
News Release Images
Click an image to download a high resolution version in JPEG format.