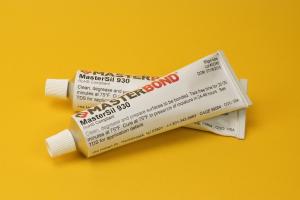 With enhanced chemical resistance Master Bond MasterSil 930 is an acetoxy type fluorosilicone for bonding, sealing and coating applications in aerospace, electronics, specialty OEM and other industries. This one part system is able to withstand exposure to water, fuels, oils, greases, refrigerants, acids, bases and solvents better than standard silicones.
MasterSil 930 has a paste viscosity, and as a one part system, it is easy to handle. It cures relatively quickly with a tack free time of 20-30 minutes, depending upon the thickness. Thinner sections cure more rapidly than thicker ones. Typical of one part silicones, the curing mechanism is based on the humidity level; the higher it is, the faster the cure. With a tensile strength of 800-1,100 psi, this compound bonds well to a wide variety of substrates including metals, composites, ceramics, glass, rubbers, plastics and other silicones.
Featuring a hardness of 30-40 Shore A, MasterSil 930 is a flexible system and resists rigorous thermal cycling as well as mechanical and thermal shock. It is electrically insulative and has a volume resistivity of over 1014 ohm-cm. Its service temperature range is -85°F to +450°F. MasterSil 930 is white in color and available for use in 80 gram tubes.
For Editorial Use
Click below to download this release in the format of your choice.
News Release Images
Click an image to download a high resolution version in JPEG format.