Product:

Print Catalog—Adhesives, Sealants & Coatings for the Aerospace Industry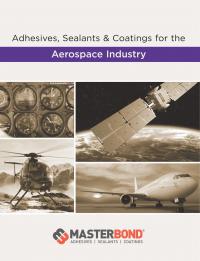 Master Bond is offering a new, easy to read, 28 page catalog with performance and processing data on its extensive line of epoxies, silicones, UV curing compounds and specialty systems for the aerospace industry. These products ensure reliability in the assembly of aircraft structures, components, interiors and MRO applications. They are widely used for structural bonding, sealing and gap filling. Additionally, conformal coatings and potting/encapsulation compounds are frequently employed to protect sensitive electronic parts against extreme conditions.
These advanced adhesive, sealant and coating systems feature many outstanding performance properties including toughness, high temperature resistance, cryogenic serviceability, thermal/electrical conductivity and excellent bond strength to both similar and dissimilar substrates. Specific grades are halogen free, meet NASA low outgassing specifications and are UL 94V-0 rated for flame retardancy.
This catalog is available for immediate download in PDF format or in print. It can be requested at http://www.masterbond.com/catalog/adhesives-sealants-and-coatings-aerospace-industry.
For Editorial Use
Click below to download this release in the format of your choice.
News Release Images
Click an image to download a high resolution version in JPEG format.