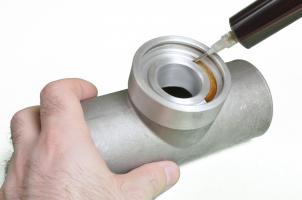 Master Bond Supreme 34CA is a high strength structural epoxy adhesive featuring superior resistance to aggressive chemicals such as acids, bases, solvents and oils. Serviceable from -80°F to +500°F this solvent free formulation has a working life of more than 24 hours per 100 gram batch at room temperature. It has good flow properties, a mixed viscosity of 7,000-20,000 cps, a mix ratio of 100 to 50 by weight and cures upon exposure to heat. This product can be dispensed manually or via automated dispensing systems.
"This unique compound offers outstanding long term durability. It adheres well to both similar and dissimilar substrates such as metals, glass, ceramics and plastics," said Rohit Ramnath, senior product engineer. "It can be used to replace traditional mechanical fastening techniques in applications requiring high temperature and chemical resistance."
Master Bond Supreme 34CA has a tensile lap shear strength >2,500 psi and a tensile strength >12,000 psi. This electrically insulative epoxy has a volume resistivity of >1014 ohm-cm. It also features a Tg of 200-210°C and a Shore D hardness of >75.
The color of Part A is black and Part B is amber. It is available for use in ½ pint, pint, quart, gallon, 5 gallon pail kits and in gun applicators. Supreme 34CA can be used as a corrosion resistant coating, as well as for bonding, sealing and filament winding applications.
For Editorial Use
Click below to download this release in the format of your choice.
News Release Images
Click an image to download a high resolution version in JPEG format.