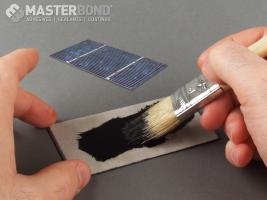 For outstanding, high performance bonding strength to both similar and dissimilar substrates, Master Bond Polymer Supreme 46HT-2 was developed. This two component adhesive features high temperature resistance along with superior toughness and strength. It has excellent durability, thermal cycling and shock capabilities, as well as superb electrical insulation properties.
With a balance of superior peel and shear strength properties, Supreme 46HT-2 is suitable for applications where long term exposure to wide temperature ranges between -100°F and +500°F is required. It is used extensively in aerospace, electronic, metalworking, transportation, appliance and chemical/oil processing applications.
With a mixing ratio of 100 to 30, it cures at elevated temperatures with a minimum 250°F required for cure. Moreover, product properties are relatively unaffected by small changes in mix ratio. There is also a non-drip version available called Supreme 46HT-2ND2 that will not flow during cure. It is available for purchase in half-pint, pint, quart, one gallon and five gallon container kits.
For Editorial Use
Click below to download this release in the format of your choice.
News Release Images
Click an image to download a high resolution version in JPEG format.