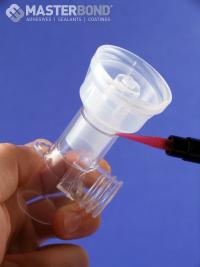 Master Bond UV10TK40 is a UV curable, no-mix epoxy resin system with exceptional sealing and gap-filling properties. It excels in applications such as aligning parts and bonding irregularly shaped surfaces, especially in production environments where increased speed and reduced waste are paramount. Its very high surface hardness (Shore A >75) also makes it an excellent choice for clear coating.
UV10TK40 is easy to apply and has a viscosity of 35,000 - 45,000 cps. In addition to our standard packaging, UV10TK40 is also available in convenient, ready-to-use syringe applicators. The system contains no solvents or other volatiles and is 100% reactive.
UV10TK40 is not oxygen inhibited and cures rapidly in the presence of air upon exposure to UV light at room temperatures. It forms highly durable bonds with a typical tensile strength of 8,300 psi, a Young's modulus of 245,000 psi, and an elongation at break of 6%. Additionally, it has good dimensional stability and high heat stability (94°C Tg).
For Editorial Use
Click below to download this release in the format of your choice.
News Release Images
Click an image to download a high resolution version in JPEG format.