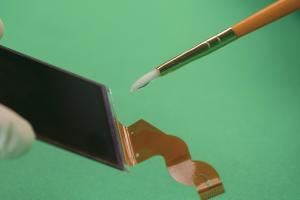 Master Bond UV10TK40M is a one part UV curable system, which is not oxygen inhibited, and can be used for bonding, sealing and coating applications. UV10TK40M is optically clear, with a refractive index of 1.55. It has a high glass transition temperature (Tg) of 135-140°C and is serviceable from -60°F to +450°F. Its hardness upon curing is 75-85 Shore D.
"Not only does it meet NASA low outgassing specifications, but this system also withstands 1,000 hours at 85°C/85% RH. Its Shore D hardness was not adversely affected even after exposure to elevated temperatures and high relative humidity", says Rohit Ramnath, Senior Product Engineer. UV10TK40M cures in 20-30 seconds when exposed to a UV light source emitting at a wavelength of 320-365 nm with 20-40 milliwatts per cm2.
UV10TK40M bonds well to glass, surface treated metals and plastics such as polycarbonates and acrylics. UV10TK40M is recommended in fiber-optic, optical, opto-electronic and electronic applications where heat resistance and a moderate viscosity are needed. The product is available in 1/2 pints, pints, quarts, gallons and syringes.
For Editorial Use
Click below to download this release in the format of your choice.
News Release Images
Click an image to download a high resolution version in JPEG format.