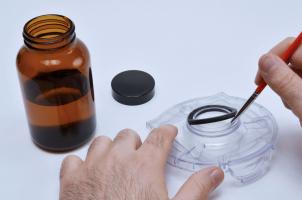 Well suited for bonding dissimilar substrates, Master Bond UV15X-2 is a one part UV curable adhesive, sealant, coating and potting compound. This versatile system combines a high performance physical profile with very low shrinkage upon curing. It is widely employed in fiber-optic, optical, electronic, microelectronic, semiconductor and laser applications.
With a tensile strength of 6,000-7,000 psi, UV15X-2 bonds well to a wide variety of substrates including glass, metals, ceramics and many plastics, especially polycarbonates and acrylics. It features impressive light transmission properties and has a refractive index of 1.51. This low viscosity system is not oxygen inhibited and cures readily in 10-30 seconds when exposed to a UV light source. The rate of cure depends upon the compound's distance from the light source, the thickness of the section and the intensity of the light source. No solvents or vapors are released during the curing process. UV15X-2 can also be readily cured in sections up to ¼ inch thick.
Serviceable over the wide range of -80°F to +300°F, UV15X-2 is able to withstand rigorous thermal cycling. It resists many chemicals, such as water, oils, fuels, acids and bases. Other notable characteristics include reliable electrical insulation values, dimensional stability and abrasion resistance. UV15X-2 is available in a variety of standard packaging options from ½ pints to 5 gallon units. It can also be purchased in syringe applicators.
For Editorial Use
Click below to download this release in the format of your choice.
News Release Images
Click an image to download a high resolution version in JPEG format.