One component, high temperature resistant epoxy system for bonding and sealing
Key Features
Ideal for die attach applications
Will tack in 5 to 15 minutes
Meets MIL-STD-883J Section 3.5.2 for thermal stability
Meets NASA low outgassing specifications
Product Description
Master Bond EP17HTDA-1 is a one component, heat cured epoxy system primarily for die attach applications as well as more conventional bonding and sealing. It requires no mixing and cures readily at 300-350°F. It is not premixed and frozen and has an unlimited working life at room temperature. This epoxy will tack reasonably fast, 12-15 minutes at 212°F, 5-6 minutes at 300°F. This is followed by curing at either 2-3 hours at 300°F or 1-2 hours at 350°F, in order to optimize properties. EP17HTDA-1 has excellent consistency and flow for die attach applications.
This epoxy system features excellent physical properties, superb electrical insulation along with good thermal conductivity, even at elevated temperatures. This system is also distinctive in that it has a relatively low exotherm upon curing. EP17HTDA-1 is 100% reactive and contains no solvents or diluents. EP17HTDA-1 bonds well to similar and dissimilar substrates such as metal, ceramics, plastics and composites. It has a noteworthy resistance to many chemicals including acids, bases, salts, fuels, oils and many solvents. Significantly, it has minimal shrinkage upon curing. Its service temperature range is from -80°F to +525°F. Since it passes NASA low outgassing, it can be used in vacuum type situations and other applications where that requirement is needed. EP17HTDA-1 is used primarily as a die attach and adhesive/sealant in electronic and related applications, where high temperature resistance, good electrical insulation properties and thermal conductivity are desirable.
Product Advantages
Single component system
Thermally conductive, electrically insulative
Excellent die shear strength
High temperature resistance
Ideal viscosity flow profile for die attaching
Fast tacking
Industrial Certifications
Packaging
EP17HTDA-1 is available is various sizes and units to accommodate customer's needs.
Case Studies
Master Bond EP17HTDA-1 was used by researchers in an air-microfluidic particulate matter sensor for a wearable device.
Visual Media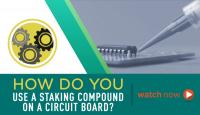 See how to properly apply a staking compound to an electronic component for enhanced mechanical reinforcement. Learn how to apply the material on components of differing sizes and shapes as well as what material works best for this type of application.
Request Information