One component, silver filled epoxy featuring extraordinary electrical and thermal conductivity
Key Features
For bonding, sealing and coating
Not premixed and frozen
Very long open time at room temperature
Cures rapidly at 250-300°F
Product Description
Master Bond EP3HTS-TC is a fast curing, silver filled, one part epoxy with unparalleled electrical and thermal conductivity. It is not premixed and frozen and has an unlimited working life at room temperature. It has a paste consistency and dispenses easily from a syringe. It cures rapidly at 250 to 300°F with minimal flow and low shrinkage upon curing. This epoxy should be stored in a refrigerator at 40 to 50°F.
Although this product can be used for sealing and coating, its main use is as an adhesive for die attach and general bonding purposes. EP3HTS-TC bonds well to a wide variety of substrates including metals, composites, ceramics, and many plastics. As a die attach adhesive, it dispenses smoothly and easily. It is well suited for automatic dispensing equipment and can be applied without any tailing. For other types of bonding, it combines remarkable thermal and electrical conductivity. In fact, the thermal conductivity exceeds 16 W/(m·k). Along with this, the maximum particle size is about 20 microns, and when these numbers are combined, the thermal resistance is a remarkable 1-5 x 10-6 K·m2/W. Other desirable attributes include excellent dimensional stability, resistance to thermal cycling, and a low coefficient of thermal expansion. The temperature range is -80°F to +400°F. EP3HTS-TC also passes NASA low outgassing specifications. There are 2 scenarios where EP3HTS-TC would be a top candidate. The first is in applications where the lowest possible volume resistivity is required. The second is when pre-eminent thermal conductivity is necessary and the need for electrical conductivity is not a pertinent issue.
Product Advantages
Single component system, no mixing needed
Not premixed and frozen, unlimited working life
Ideal viscosity for die attach and general bonding
Spectacular electrical and thermal conductivity
NASA low outgassing
Industrial Certifications
Packaging
EP3HTS-TC is available is various sizes and units to accommodate customer's needs.
Visual Media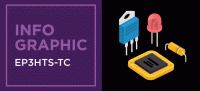 Master Bond EP3HTS-TC is a super unique epoxy utilizing a non-sintering silver technology to provide ultra high heat transfer capability.
Request Information