One component, graphite filled epoxy with a curing temperature of 80°C
Key Features
Good electrical and thermal conductivity
Thixotropic paste
Not premixed and frozen
NASA low outgassing
Product Description
Master Bond EP5G-80 is a one component, graphite filled epoxy paste for bonding, sealing and coating applications. It is electrically and thermally conductive. The system has outstanding physical strength properties, stellar dimensional stability and low shrinkage upon curing. It is not premixed and frozen, and has a working life of 8-12 hours at room temperature. Curing is simple and straightforward, 4 hours at 80°C.
EP5G-80 bonds well to a wide variety of substrates such as metals, composites, ceramics and many plastics. It has a remarkably high tensile modulus and compressive strength. The electrical conductivity is quite robust, with a volume resistivity between 5 to 15 ohm-cm. This exceptionally low volume resistivity allows EP5G-80 to be utilized in applications outside of the typical ones for graphite filled epoxies (e.g. static dissipation, EMI/RFI shielding). Such a low resistance permits the system to be used for direct connection of substrates where this property is required. Graphite is a desirable filler material because of its performance and cost effectiveness. EP5G-80 will resist water, oils and fuels. Its color is black. The service temperature range is -50°C to +175°C. A particularly advantageous feature of EP5G-80 is, it is highly screen printable. It can be used in electronic, aerospace, medical device, optical and specialty OEM type applications where a non-metallic, conductive epoxy is needed. Some recent applications for graphite filled epoxy involve lithium ion batteries, fuel cells as well as carbon brushes.
Product Advantages
Convenient handling
Non-metallic filler
Thermal and electrical conductivity
Good lubricity
Low coefficient of thermal expansion
Passes NASA low outgassing specifications
Industrial Certifications
Packaging
EP5G-80 is available is various sizes and units to accommodate customer's needs.
Visual Media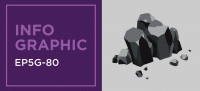 EP5G-80 is a specialty non-metallic paste system designed for heat sensitive electronic applications where high levels of conductivity are needed.
Request Information