One component, toughened, electrically insulating epoxy for die attach applications
Key Features
Ideal dispensing profile
Fast curing
High die shear strength
Very long working life at room temperature
NASA low outgassing
Not premixed and frozen
Product Description
Master Bond Supreme 3HTND-2DA is a fast curing, one component, high performance, insulating epoxy system for die attach applications. Unlike most other die attach systems, Supreme 3HTND-2DA is not premixed and frozen. It is a true one part system with unlimited working life at room temperature and requiring only simple refrigeration for storage. The system is fast setting with a cure schedule of 5-10 minutes at 150°C.
Supreme 3HTND-2DA dispenses smoothly and easily, without any tailing and is well suited for automatic dispensing equipment. It can be applied to a defined area without running. Upon curing, this epoxy has an impressive array of outstanding properties. First and foremost, it has excellent die shear strength and performed very well in 85/85 testing. It also offers high dimensional stability and a capacity to withstand rigorous thermal cycling and shock. The service temperature range is a robust -100°F to +400°F. Supreme 3HTND-2DA has low ionics, particularly chlorine(<115 ppm). It bonds well to metals, ceramics and silicon dies. It should be noted that while this product is a first class electrical insulator, it has good thermal conductivity. In accordance with die attach requirements, Supreme 3HTND-2DA passes NASA low outgassing test specifications. The extraordinary combination of convenient storage, easy handling and highly desirable properties make this a go-to material not only for die attach applications, but for other bonding situations as well.
Product Advantages
Single component system, no mixing needed
Unlimited working life at room temperature
Desirable dispensing profile, no tailing or bleed out
Formidable die shear strength
Withstands thermal cycling and shock
Excellent dimensional stability
Compatible with dispensing equipment
Industrial Certifications
Packaging
Supreme 3HTND-2DA is available is various sizes and units to accommodate customer's needs.
Visual Media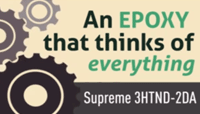 Ideal for die attach applications, Supreme 3HTND-2DA is a single component epoxy that doesn't require mixing or freezing.
Request Information