Two component epoxy resin system featuring excellent temperature and chemical resistance
Key Features
Convenient handling, long open time
Cures rapidly at moderately elevated temperatures
Superb physical strength profile
Good toughness
Product Description
Master Bond Supreme 62-1 is a two component epoxy system that has an exceptionally long working life at ambient temperatures and cures rapidly at moderately elevated temperatures. It has a very forgiving 100 to 10 mix ratio by weight. The pot life of 100 grams is greater than 12 hours. Typical cure schedules range from 4-6 hours at 140-158°F [60-70°C], 20-40 minutes at 176-212°F [80-100°C] or 10-20 minutes at 257°F [125°C]. To obtain optimum properties, post curing at 212-302°F [100-150°C] for 2-4 hours is recommended. Following an optimum cure schedule, Supreme 62-1 has a glass transition temperature in the range of 155-160°C. Also noteworthy is its outstanding chemical resistance to acids, bases, many solvents and other chemicals, even at elevated temperatures (as listed in the table below). This system has excellent electrical insulation properties. Most noteworthy is that Supreme 62-1 is a toughened system with an enhanced ability to withstand thermal cycling. The service temperature range is -60°F to +450°F The color of Part A is clear and Part B is dark brown in color. Supreme 62-1 is a worthy candidate for aerospace, electronic, optical, specialty OEM and related applications, particularly when high temperature resistance, a degree of toughness and the ability to withstand aggressive chemicals is required.
Product Advantages
Easy to use, very forgiving 100 to 10 mix ratio by weight (will fully cure using 100 to 5 mix ratio)
Impressively long working life
First rate electrical insulation properties
Protection from many aggressive chemicals
Versatile curing schedules
Outstanding dimensional stability
Meets NASA low outgassing specifications
Industrial Certifications
Packaging
Supreme 62-1 is available is various sizes and units to accommodate customer's needs.
Visual Media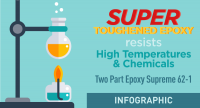 Master Bond Supreme 62-1 delivers enhanced chemical and temperature resistance while maintaining high performance properties.
Request Information