Lap shear strength testing results for diverse Master Bond epoxy adhesives are shown below. Nylon to nylon bonding was done after mechanical abrasion. Most noteworthy is the impressive lap shear strength for the Master Bond Supreme 11HT adhesive system. Determination of the most suitable bonding agent is dependent not only on strength properties but also meeting specific processing and service conditions for the mated nylon surfaces. The nylon coupons measured 4 x 1 x 1/16 inch. Their surface was roughened and cleaned with isopropyl alcohol.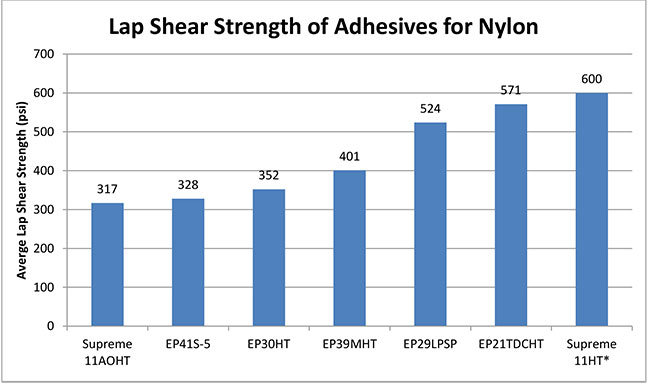 Each of these epoxies has its own distinctive advantages, for example Supreme 11AOHT is also thermally conductive and EP41S-5 has exceptional resistance to many chemicals. For more information on Master Bond high strength epoxy adhesives, please contact our technical advisors.
Disclaimer: The findings in this article are not meant to be used for specification purposes.
High Lap Shear Strength Adhesives for Nylon
EP29LPSP

Two part epoxy system with ultra low viscosity and remarkable cryogenic properties. Withstands rapid drop in temperature and is NASA low outgassing approved. Optically clear. Long working life. Low exotherm. Excellent resistance to acids, bases and many solvents. Outstanding electrical insulative properties. Service operating temperature range from 4K to +275°F.

EP21TDCHT

High strength, high temperature resistant, two part system with excellent bond strength and thermal cycling capabilities. Serviceable from -100°F to +350°F. Meets MIL-STD-883J Section 3.5.2 for thermal stability. Moderate viscosity. Superior toughness. Withstands vibration, impact, shock. Good dimensional stability. Convenient one to one mix ratio. Dependable electrical insulation properties.

Supreme 11HT

High peel and shear strength system. Convenient one to one mix ratio. Serviceable from -100°F to +400°F. Superior resistance to impact, thermal shock, vibration and stress fatigue cracking. Excellent toughness. Cures readily at room temperature. User friendly. Dependable dimensional stability. Readily machinable.