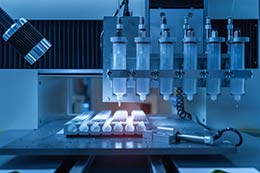 Master Bond has developed one part, no mix, solvent free, environmentally friendly adhesives LED403Med and LED405Med for rapid fixturing/assembly of pivotal medical devices. These compounds have been designed to offer adhesion to a wide variety of metals, glass, as well as plastic substrates such as polycarbonates and acrylics. One of the surfaces to be bonded needs to be clear or transparent, and these formulations will fully cure upon exposure to a 405 nm wavelength in 30-45 seconds. The cure time can vary depending on the intensity of the light, thickness of the layer and the distance the light source from the adhesive. Recommended light intensity is 1-4 watts/cm2. Most importantly, they are compatible with many heat sensitive substrates.
Master Bond LED403Med and LED405Med have the capability of being utilized in the assembly of both disposable and reusable medical devices. Some common examples include:
Respiratory circuits
Catheters
Pressure transducers
Syringes
Hearing aids
Blood filters
Infusion sets
Our LED curing products are engineered to withstand exposure to ethylene oxide, gamma radiation, electron beam, and chemical sterilants. They also exhibit protection against disinfectants, antimicrobial agents, detergents, isopropyl alcohol and exhibit superb electrical insulation characteristics. LED403Med and LED405Med can be applied in an automated way, meet stringent quality control standards, and cure without any oxygen inhibition.
Master Bond LED403MED is USP Class VI certified and complies with ISO 10993-5 cytotoxicity requirements. This system cures tack free and has a high but flowable viscosity of 100,000-150,000 cps. It has a service operating temperature range of -60°F to +250°F (-51°C to +121°C). It is an excellent electrical insulation with volume resistivity greater than 1014 ohm cm. This durable biocompatible composition improves production efficiency, reliability, and longevity for many essential medical devices.
LED405Med is a nanosilica filled LED curable compound. It is more user friendly than UV light curing compositions. LED405Med has magnificent optical clarity, a refractive index of 1.50 at 75F, and low coefficient of thermal expansion. It has an advantageous low viscosity of 2,000-8,000 cps. LED405Med has phenomenal abrasion resistance, unrivaled dimensional stability, and an impressive low shrinkage upon cure. Its resistance to different sterilization methods is formidable. Service operating temperature range is -60°F to +250°F (-51°C to +121°C). LED405Med was independently tested and is in full compliance with the ISO 10993-5 guidelines. This product has been effective in offering engineers, multiple options in solving a broad range of application needs for medical device manufacturing.
Master Bond Popular Products
LED405Med

One part, cures tack-free without any oxygen inhibition. Passes ISO 10993-5 cytotoxicity test. Serviceable from -60°F to +250°F. Superb optical clarity.

LED403Med

One part, high viscosity system. Cures tack-free without any oxygen inhibition. Meets USP Class VI specifications; also passes ISO 10993-5 cytotoxicity test. Resists gamma radiation, EtO and various chemical sterilants. Serviceable from -60°F to +250°F.