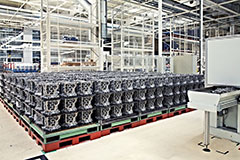 A leading agricultural manufacturing company conducted a thorough evaluation of different adhesive systems to replace mechanical fasteners, rivets, welding for the assembly of tractors. A wide range of processing and performance specifications were drawn up to specific requirements. Meticulous testing procedures were followed that replicated exact service conditions. The list of candidates was eventually narrowed to two different structural adhesive systems formulated by separate companies. This was no simple task because of the trade offs in properties involved for each product examined.
A primary objective was to find a structural adhesive for bonding sheet metals to composite/plastic substrates. This would enhance weight reduction which would result in improved fuel economy and lower the cost of ownership throughout the vehicle life. This would provide a competitive advantage for the tractor manufacturer which could result in a significant increase in sales and profitability.
To achieve this goal careful consideration by design engineers of high/low temperature serviceability, thermal expansion issues, protection against corrosion, aging characteristics, resistance to humidity, vibration, impact, shock, chemical exposure, thermal cycling needed to be investigated. Our team of technical experts were able to offer support that enabled their engineering staff to address their most pressing concerns and find solutions that would allow their tractors to operate in the most difficult work environments while increasing load capacity.
After a prolonged period of testing Master Bond single component epoxy system EP17HT-3 was far superior in meeting the stringent requirements of their application. In fact the methyl methacrylate adhesive was a distanced second in multiple categories including heat resistance, physical strength, creep and protection against solvents. Additionally this toughened composition displayed amazing impact resistance, outdoor weatherability including UV light exposure, could be automatically dispensed and cured speedily (rapid strength developments) to expedite high volume production. Another major advantage over the methyl methacrylate adhesive was its low odor. This assures skilled operators could handle the Master Bond EP17HT-3 safely in comparison to concerns with the odor issues of the methyl methacrylate adhesive system. One part EP17HT-3 has a proven track record in providing consistent reproducible performance, strength retention and has a long history of successful usage in many challenging applications.