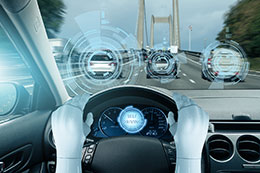 These electronic systems are crucial in improving driver safety. They also aid in backing up and parking. As this industry evolves Master Bond is actively involved in developing advanced formulations to ensure that many types of ADA systems function reliably. Select grades can be designed for both assembling components and for securing attachment to the vehicle of these units even upon exposure to extreme hostile conditions. Some of these key components include sensors, actuators, processors, LIDAR, radars, displays, wire harness systems, electronic control units, and cameras.
Master Bond works with OEMs, Tier 1, 2, 3 automotive supplier research institutions in offering our technical expertise and engineering customized compounds to deliver solutions to meet challenging objectives. In many cases these materials can be designed to provide dramatic upgrades over competitive products by enhancing performance capabilities. By deploying these systems our customers can adjust rapidly to component miniaturization needs while addressing safety-critical concerns.
Sustainable, solvent-free, ROHS and REACH compliant Master Bond products used in advanced driver assistance systems applications consist of structural bonding agents, electrically conductive adhesives, underfills, conformal coatings, potting/encapsulants compounds, form-in-place gaskets and thermal management materials. Some of the key characteristics of our industry-leading formulas include low CTE, high Tg, fast cures at moderately elevated temperatures, durability, flexibility, toughness, low outgassing, snap cures, capillary flow, low stress, optical clarity, minimal shrinkage, superior chemical/thermal cycling resistance, high tensile strength, conductive/non conductive pastes.
It is important to note that valuable contributions can be made to the assembly of advanced driver assistance systems (ADAS) through the utilization of unique Master Bond compositions. Not only do they exhibit impressive performance properties but also are noted for their adeptness in increasing efficiency, productivity, and overall output. They can be automatically dispensed, consistently comply with the most stringent quality control standards and are tailor made in a range of viscosities, cure speeds for a wide array of specific requirements. Different Master Bond grades can be utilized in bonding substrates with different expansion/contraction coefficients and have demonstrated their effectiveness in withstanding the following conditions:
Wind/rain
Icing/freezing rain
Salt spray
Fungus
Extreme temperature variations
Sand/dust
Moisture
Humidity
Noise, vibration, harshness
Pressure leaks
Corrosion
Sunlight
Salt fog
High/low temperatures
Accelerated aging
Altitude
Contamination by fluids
Cyclic fatigue
Select Master Bond products can be selected for the assembly of various types of ADAS systems. They include but are not limited to:
Adaptive cruise control
Anti-lock braking systems
Automatic parking
Tire pressure monitoring
Lane departure warning systems
Automotive night vision
Lane change assistance system
Navigation systems
Surround view systems
Blind spot monitor
Backup camera
Electronic stability control
Rain sensor
Traction control system
Parking sensor
Automotive head-up display
Automotive night vision
Master Bond has initiated new research projects to keep pace with the expanding ADAS market. Much progress has been made. Among the novel compositions are UV15DC80-1. This solvent free, single component no mix UV dual curing epoxy adhesive/encapsulants will solidify in "shadowed out areas" at 80°C. This product is most dependable in achieving superior physical strength properties, low shrinkage, and serviceability from -60F to +350°F, decreasing fixturing times and adhering to an opaque substrate with moderate heat exposure of around 80°C. Master Bond EP17HT is another distinct adhesive/encapsulant recommended for high temperature operations. It has a Tg of 200-225°C and has a volume resistivity of greater than 1012 ohm cm at 400°F. EP17HT can be cast up to ½ inch in thickness in some cases and protects components against fuels, oils, solvents. Silver filled, electrically/thermally conductive epoxy adhesive EP3HTSDA-2 has a low volume resistivity of less than 1 milliohm-cm, has superb retention of conductivity, is easy to dispense, has "unlimited" working life at room temperature and passes NASA low outgassing tests. Two component Master Bond EP29LPTCHT has a low viscosity, good flow, very long working life at room temperature, and can be applied in sections as this as 15 microns. Its thermal resistance of 12-15 x 10-6 Km2/W is much below standard thermal conductive, electrically insulating epoxies. Additionally this special compound is much acclaimed for its outstanding compressive strength. Incorporating these and other Master Bond compounds in ADAS components has the potential to widen the opportunities for product differentiation that will magnify the potential for greater sales and profitability.
Master Bond Popular Products
EP17HT

Serviceable up to 600°F. Exceptional Tg of 220-225°C. No mix formulation. Low exotherm upon curing. Exemplary chemical resistance. Can be used in encapsulations and castings beyond 1/2 inch thickness.

UV15DC80-1

UV and heat curable epoxy formulation. Cures in "shadowed out" areas at temperatures as low as 80°C. Convenient no mix system. Serviceable from -80°F to +350°F. Superb electrical insulator.

EP3HTSDA-2

Silver filled electrically conductive epoxy has a rapid cure speed. Low volume resistivity and high temperature resistance. Superior bond strength. Thermally conductive with incredibly low thermal resistance. Smooth paste, consistency. Available in syringes that are compatible with various types of automatic dispensers or manual dispensing. Serviceable from -80°F to +450°F.

EP29LPTCHT

Two component epoxy featuring a low viscosity with excellent flow properties. It is electrically insulative and thermally conductive with an impressive fine particle size filler material. Bond line thicknesses range from 5 to 15 microns.