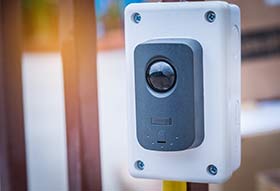 Application specific Master Bond adhesives, sealants, coatings, and potting compounds are constantly being formulated to meet the demanding needs of intrusive sensors. These advanced epoxy, silicone and UV curing systems can be deployed in interior and outdoor environments. They can be employed for critical facilities such as banks, warehouses, data centers, museums, airports, electric utilities, hospitals, educational institutions, military installations, as well as harbors.
Versatile Master Bond compositions can make valuable contributions to improving the performance, processing, miniaturization, consistency, stability, longevity, and reliability of intrusion sensors. Some common examples are:
Passive infrared motion detectors
Tomographic motion detectors
Microwave sensors
Photoelectric beams
Ultrasonic detectors
Fiber-optic cable sensors
Picture monitoring systems
Vehicle detection sensors
Hold up switches
Seismic sensors
Vibration detectors
Key pads
Control panels
Wireless water detection sensors
Capacitance sensors
Proximity sensors
Pressure sensors
Acoustic detectors
Humidity sensors
Numerous considerations need to be assessed to ensure a high probability of detection. This includes an alarm appraisal, sensitivity settings, types of potential threats, communication, monitoring, maintenance and many other factors. Different types and quantities of intrusion sensors may be necessary to establish an effective security protection system while reducing nuisance alarm rates. Both interior and exterior intrusion sensors are subjected to disparate conditions. Interior sensors are often exposed to noise, air flow, sunlight, reflective surfaces, humidity, electromagnetic interface (EMI), heating, ventilation, and air conditioning. In contrast, exterior intrusion sensors need to withstand distinct climates, blowing debris, dust, topography, human activity, and thermal fluctuations.
Master Bond's wide portfolio of products consists of systems that feature extraordinary electrical properties, thermal properties, mechanical strength, and chemical resistance. Unique grades are low stress, some have low volume resistivity, while others provide high volume resistance and excellent dielectric properties. Specialty products meet NASA low outgassing specifications, UL 94 V-0/UL 94 V-1, and pass 85°C/85% RH accelerated ageing tests. In addition, other formulations can be engineered to guard against severe vibration/impact. Many products are fungus resistant, exceed Mil-Std-883 requirements for thermal stability, exhibit optical clarity, provide low shrinkage as well superior dimensional stability. Some products can sustain long term immersion to multiple chemicals.
Master Bond adhesives are designed to reliably bond dissimilar substrates together. UV and dual curable systems have gained popularity for intrusion sensor applications. The UV curing chemistries require no mixing, cure in seconds, increase output, and can be applied automatically or manually. Formulas with a dual cure mechanism can polymerize in shadowed out areas at around 80-125°C. They can shorten lead times, eliminate waste, and address ecological, safety, as well as health concerns.