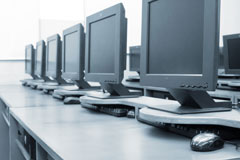 Master Bond is a leading supplier of adhesives, sealants, coatings, potting compounds used in the manufacture, assembly and maintenance of multiple types of computer hardware. These formulations are employed on personal computers such as desktops, laptops, notebooks, game consoles, hand held devices, workstation computers, computer servers, mainframes and supercomputers. They are widely employed on internal components, storage devices, input, output devices. From speakers, printers, image scanners, heat sinks, to fans, camera lens to keyboards to PCBs, Master Bond products provide computer manufacturers affordable, high quality, technologically advanced compositions for reliable, repeatable long term performance. Systems have been designed to offer automated dispensing to enhance productivity and lower costs. Select systems have been developed to feature superior performance properties and to give manufacturers a competitive edge, increasing market share.
Master Bond has been instrumental in making major contributions in collaboration with key computer companies to satisfy the demand for ruggedized systems. These products can withstand exposure to vibration, impact, shock, high/low temperatures. They generate fast processing speeds and compact models produce ideal solutions in manufacturing facilities, industrial automation, transportation, security/defense applications. Ultra reliable mechanical robustness possessed by these computers along with their impressive processing power, expandable designs, has optimized their functionality in hostile environments.
Pivotal characteristics of Master Bond products for the computer industry are:
Thermally conductive/Electrically insulative
Water and chemical resistant
Excellent durability
Dimensional stability
Stress dissipation
Electrical connection
Serviceable at high and low temperatures
Structural adhesive systems are solvent free and adhere well to similar/dissimilar substrates. They have been vital in lightweighting, resistance to cyclic fatigue, contamination from liquids/gases, dust, dirt, and providing even distribution of stress over the entire bonding area. Special sytems have an extremely low thermal expansion coefficient and heat dissipation properties.
Typical computer applications include:
Circuit board assembly
Semiconductor packaging
Heat sink attachment
Glob top coating
EMI/RFI shielding and gasketing
Surface mounting
Conformal coating of circuit boards
Wire tacking
Potting/encapsulation
Both one and two part systems are available for use in a range of viscosities, cure speeds, hardnesses, etc. They consist of epoxies, silicones, urethane modified epoxies, epoxy polysulfide hybrids, and UV/visible light curing systems. Distinctive products include NASA low outgassing compositions, graphite, nickel, silver coated nickel, silver filled systems, optically clear compositions and dual UV/heat cure materials for shadowed areas. Also we have developed compounds for underfill potting and flip chip assembly. Electrically insulative polymeric formulas with high volume resistivity have proven most beneficial in delivering stability over long durations.