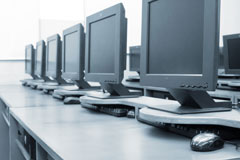 As the number of personal computers in the world grows into the billions, the manufacture, assembly and maintenance in this industry becomes increasingly vital. Master Bond is at the forefront of developing adhesive formulations that are technologically advanced for this booming industry. We have systems that are:
Thermally conductive/Electrically insulative
Water and chemical resistant
Withstand exposure to vibration, impact and shock
Durable
Dimensionally stable
Serviceable at high and low temperatures
Typical computer applications include:
Circuit board assembly
Semiconductor packaging
Heat sink attachment
Glob top coating
EMI/RFI shielding and gasketing
Potting/encapsulation
Special grades include NASA low outgassing approved and silver or nickel filled. We also have systems designed for underfill potting and flip chip assembly. Both one and two part systems are available and include epoxies, silicones, polyurethanes, polysulfides and UV curables.