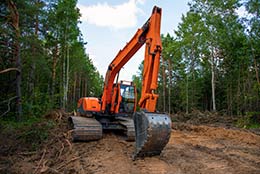 Master Bond offers custom, structural adhesive systems which can be used in mobile/stationary forestry equipment. These highly engineered products provide protection from impact, vibration, shock, wear, abrasion, water, moisture, corrosion, and fatigue. Tough durable compositions can withstand massive weight, inclement weather such as extreme hot/cold temperatures, and strong winds.
Bond strength between similar/dissimilar substrates is excellent and beneficial for light weighting to reduce CO2 emissions. Master Bond can work with manufacturers to develop heavy-duty off highway electric vehicles and dual-electric hybrids to meet end user needs for long-term cost savings, quieter operating noise and facilitating better energy efficiency. We are also making a significant contribution in real time connectivity through the "Internet of Things" (IOT). This allows inexpensive sensor networks to gather data to make improved decisions on everything from forest safety, conservation, streamline operations, boost awareness of soil conditions to detecting diseases, identify wood quality, estimate forest growth, to fighting illicit logging, inventory management and control.
Master Bond adhesive systems can be precisely, efficiently dispensed automatically and have assisted manufacturers in hiking productivity. Utilization of custom Master Bond formulations has been of paramount importance in the construction of flexible designs. This has been instrumental in fulfilling uniquely demanding performance requirements while emphasizing reduced safety /health risks including operator ergonomics. Our product line for manufacturing forestry equipment consists of epoxies, silicones, polysulfides & urethane modified epoxies, and UV/visible light curing systems. These products can be purchased in low, medium, high viscosities and can be cured at different speeds at room temperature or with the addition of heat/UV/visible light. Specific grades feature ultra-fast fixture times, gap filling properties, extended working life, low heat temperature cures for adhering heat sensitive substrates, superior peel strength and heat dissipation. It is most notable that products are compounded to provide consistent, reliable, reproducible, long-lasting capability to meet specific customer needs that often exceed their own specifications. This has enabled many companies to obtain a competitive edge in difficult product lines.
Applications where Master Bond adhesives can be used in Forestry Equipment and Machines:
Delimbers
Feller bunches
Harvesters
Logging trucks
Excavators
Log loader
Wood Chippers
Dozers
Mulchers
Yarders
Grinders
Skidders
Forestry swing machines