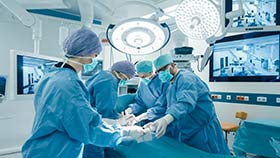 Master Bond manufactures a wide variety of adhesives, sealants, coatings, potting compounds, thermal management compositions for the assembly of many types of medical lighting equipment. These formulations offer dependable, reliable, long lasting performance and are engineered to meet stringent quality control standards. Our products have been successful in helping medical professionals optimize examinations, diagnosis, treatments, surgical procedures and aid in providing the best possible patient outcomes. From emergency rooms, ambulatory, surgery centers, maternity wards, operating rooms to dermatologist offices, clinics, dental offices, veterinary hospitals making the ideal illumination choices are critically important in accomplishing the required task. Effective lighting solutions will alleviate eye strain, eye fatigue, medical errors, reduced productivity, fatigue, stress for nurses and physicians which can have adverse consequences.
Master Bond is utilized in the fabrication of the following types of medical lighting systems:
Surgical lights
Medical exam lights
Penlights
Key considerations in selecting the proper medical lighting are:
Mounting configurations—ceiling, wall and floor mats
Portable stand
Illumination-shadow reduction and no glare
Accurate color rendering
Bulb type/light source-LED, fluorescent lighting, renewable energy, incandescent and halogen
Long-term, short term cost
Single and/or dual heads
Boom arm or track suspension
Power consumption
Color temperature and color rendering (CRI)
Heat management
HD camera and video monitoring
Maintenance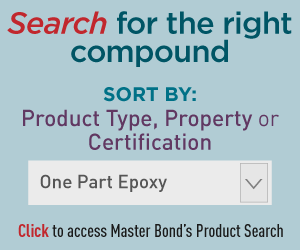 Master Bond's custom formulated adhesive solutions can be utilized to develop advanced medical lighting systems. This need has been hastened by the global population growth, rising life expectancy, soaring rate of chronic diseases and the hike in government investment in healthcare. Master Bond has been at the forefront of this crucial challenge and gratified by our input in fluorescent, renewable, LED, incandescent, halogen, infrared, magnifying, ultraviolet lamp technology. These efforts have made an impact in untapped market potential by achieving patient wellness and worker efficiency goals.
Master Bond products that are used in the construction of medical lighting equipment possess excellent mechanical, electrical, thermal, chemical, optical properties. Application specific grades are intended for lighting, controls, lamps, sensors, dimmers, power supplies, uninterruptible power supplies, transformers, switches, generators, circuits, connectors, rechargeable batteries. These components, parts, subsystems, systems are employed for medical lighting equipment for minimally invasive and major surgical procedures. This extends from spine, cardiac, pediatric, oncology to oral, colon, gynecologic, orthopedic, sports medicine operations. Minimally invasive surgery ranges from urological conditions, lung tumors, gastroesophageal reflux disease, atrial septal defects to varicose veins, kidney stones, ovarian cysts, gallbladder cancer, hernias, obesity. These endoscopic procedures have a low risk of infection, faster recovery times, small incisions, reduced loss of blood and less pain. Master Bond adhesives can be formulated to resist abrasion, provide excellent optical properties, while meeting USP Class VI requirements for biocompatibility and ISO10993-5 requirements for non-cytotoxicity.
Master Bond Popular Products
EP30-4Med

Rapid room temperature curing two component epoxy system. Low viscosity. Optically clear and non-yellowing. Superior chemical resistance. Superb electrical insulation properties. Cures quickly even in thin sections. High bond strength. Two to one mix ratio by weight. Low shrinkage. Shore D hardnes >80. Serviceable from -60°F to +250°F.

UV22DC80-1Med

Dual cure system with UV and heat curing mechanisms. Cures at 80°C in shadowed out areas. Nano filled, high dimensional stability and abrasion resistance. Bonds well to metals, glass, ceramics and most plastics. Serviceable from -60°F to +350°F.

EP4CL-80Med

One component, ultra low viscosity epoxy that offers thermal and electrical insulation and is optically clear.

EP21LVMed

Biocompatible two component epoxy adhesive, sealant, coating, encapsulant. Passes USP Class VI testing. Thermal cycling resistant. Can withstand exposure to EtO, radiation, chemical sterilants. Low viscosity. Easy to apply. Serviceable from -65°F to +250°F.