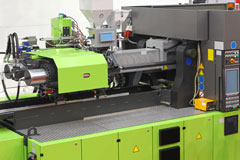 Master Bond adhesives, sealants and coatings are used extensively in the assembly of plastic processing machinery for:
Blow molding
Injection molding
Extrusion
Thermoforming
Compounding
This equipment plays a vital role in providing parts for the packaging, aerospace, medical, automotive, electronic, optical, textile and other industries. This includes:
Panels
Housings
Coffee makers
Pulleys
Headlights
Pipes
Lenses

Infusion sets
Boat hulls
Laparoscopic instruments
Fuel lines
Properties of Adhesives for Plastic Processing Equipment
Our compounds are capable of withstanding exposure to high pressure, heavy loads, heated resins, release agents and cleaning solvents. They bond tenaciously to a wide range of substrates and can be applied with automatic, semi-automatic and manual dispensers.
Additionally subcomponents are joined together with Master Bond one and two component adhesives to meet demanding requirements. Examples consist of conveyors, chillers, lifting devices, moisture analyzers and pumps.
Master Bond has also developed significant formulations for adhering substrates used by the plastic recycling industry in:
Sorting equipment
Separating equipment
Size reduction machines
Washing equipment
Granulators