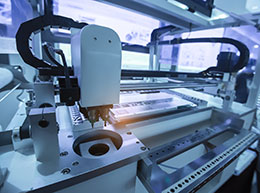 This highly sophisticated global market consists of Tier 1 and Tier 2 suppliers. Front-end, back-end and fab facility equipment needs to adopt rapidly to keep pace with emerging technology. Master Bond adhesives, sealants, coatings, potting/encapsulation compounds offer unique capabilities and have delivered swift solutions for complex requirements in multiple types of semiconductor equipment. This has been crucial in meeting end-user demand and taking advantage of fulfilling opportunities for growth.
Competition in this industry is extremely intense and companies spend heavily on research/development. Master Bond has built strong relationships with many customers which has helped propel novel innovations and rapid time to market for key machinery. This includes equipment for wafer surface conditioning, deposition, lithography, thermal processing, cleaning, inspection to testing, metrology dicing, chemical control, gas control, assembly, and packaging. It is important to note that many subassembly and module suppliers have also made significant advances in product functionality using our formulations.
Utilization of Master Bond application specific compositions has contributed to ultra high speed output, improved productivity, efficiency, yields, quality, reliability and decreased downtime costs. Pivotal products possess exceptional thermal/electrical conductivity, high Tg, low exotherm, low CTE, superior strength properties. They furthermore resist exposure to wear, corrosion, extreme temperatures, long-term chemical immersion, thermal cycling, impact, vibration, stress fatigue cracking. Additionally, eco-friendly compounds exhibit low outgassing, dimensional stability, toughness, optical clarity, outstanding electrical insulation characteristics.
Miniaturization of semiconductors for use in mobile devices, vehicle electrification, rising necessity for compact chipsets in computing, the onslaught of IoT devices, optimistic potential of 5G deployment, new advances in EUV lithography, surge in A1 chips for data centers, expansion in number of fabs are among the major fundamental parameters giving impetus to expansion in this industry. To address these challenges Master Bond has customized formulas to ensure all processing and performance specifications are precisely tailored to accommodate all requirements. This has given engineers design flexibility and often enabled production of equipment that has exceeded customer expectations.