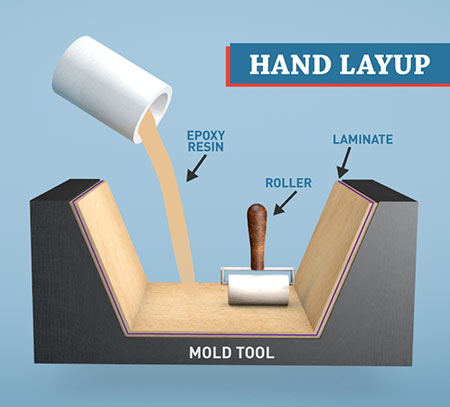 Simple, low cost, open mold fabrication process using liquid epoxy resin to position layers of laminations in a mold until desired shape/thickness is achieved. Woven such as plain, twill, plain basket waves, knitted, stitched bonded fabric layers are impregnated with an appropriate epoxy resin system by brush or roller to ensure high quality composite components/parts meet specific end use requirements. Vacuum bagging can be placed over the lay-up to assure no air entrapment or voids during polymorization. Room temperature, heat (oven) and autoclave curing products are available for processing low, medium, high production needs. Heat cure systems should be deliberately ramped up and down in temperature to prevent distortions/warpage from uneven expansion/contraction. Secondary posture process will enhance/maximize composite performance capability. Usage extends from wind turbine blades, auto/bus parts, aircraft components, structural panels, air handling equipment, housing, marine systems.
Most Popular Epoxy for Wet Lay-up and Hand Lay-up
EP29LPSPAO

Low exotherm potting/encapsulation compound. Heat curing two component thermal conductive/electrical insulative system. Can withstand cryogenic shocks. Superior electrical insulation properties. Good chemical resistance. High dimensional stability. Vacuum compatible. Service operating temperature range from 4K to +275°F.

EP21LVSP6

Two component epoxy has very low exotherm, Suitable for large casting applications. Low viscosity formulation cures at room temperature. Extended working life. Serviceable from -60°F to +250°F. Magnificent electrical insulation properties. Excellent physical strength.

EP110F8-1

High performance two component epoxy system for potting, sealing, encapsulating and casting. Low viscosity liquid with good flowability. Exceptional thermal shock resistance. Superb mechanical and electrical insulation properties. Serviceable from-80°F to +325°F.

EP113

Two component nanosilica filled epoxy for potting, coating and sealing. Optically clear. Low shrinkage. Superior electrical insulation properties. Toughened system. Successfully tested for 1,000 hours 85°C/85% RH. Serviceable from -100°F to +450°F.