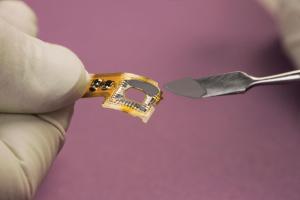 Master Bond EP5TC-80 is a one part, NASA low outgassing rated epoxy that achieves a thermal conductivity of 3.3-3.7 W/(m·K), while also retaining its electrical non-conductivity. It requires a cure at only 80°C for 1.5 to 2 hours. To optimize performance properties a post cure of 1-2 hours at 80°C is recommended. Featuring a thixotropic paste consistency, this compound adheres well to a variety of substrates such as metals, composites, glass, ceramics, and many plastics. It is formulated for bonding, sealing and small encapsulating applications.
EP5TC-80 is electrically insulating, with a volume resistivity greater than 1014 ohm-cm. It features a low thermal resistance of 6-10 x 10-6 K·m2/W and can be applied in very thin sections due to its ultra-fine particle filler. This high strength system has a tensile modulus exceeding 1.5 million psi, and a compressive strength ranging between 25,000 and 27,000 psi.
EP5TC-80 exhibits good dimensional stability with a low shrinkage upon cure, a Shore D hardness of 90-100, and an elongation of 0.5 to 1.5%. It is serviceable over the temperature range of -50°C to +150°C and has a glass transition temperature of 110-115°C. Packaging is available in 3 cc, 5 cc, 10 cc and 30 cc syringes and ships in dry ice.
For Editorial Use
Click below to download this release in the format of your choice.
News Release Images
Click an image to download a high resolution version in JPEG format.