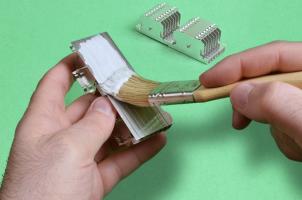 Placing an emphasis on convenient handling, Master Bond MasterSil 705TC features a paste consistency that doesn't require mixing. This single component system sets up in 7 minutes and has a non-corrosive cure at room temperature when exposed to atmospheric humidity.
Suitable for a variety of bonding, sealing and coating applications, MasterSil 705TC delivers thermal conductivity of 14 BTU·in/(h·ft²·°F) or 2.1 W/m·K and retains its electrical insulation properties. This system can also withstand temperatures ranging from -60°F to 400°F. It adheres well to metals, composites and many plastics. As a silicone based system, MasterSil 705TC is also flexible and offers a degree of reworkablity.
This off-white colored silicone is available in 130 gram (100 cc) tubes and has a shelf life of 6 months at room temperature.
For Editorial Use
Click below to download this release in the format of your choice.
News Release Images
Click an image to download a high resolution version in JPEG format.