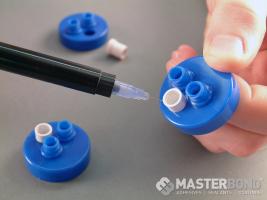 A new one component, low viscosity, optically clear, UV curable adhesive called UV10MED has been developed by Master Bond Inc., Hackensack, N.J. This compound is USP Class VI approved and is recommended for use in medical device manufacturing. It offers superior adhesion to metals, glass, ceramics and most plastics. It also has excellent chemical resistance properties and is resistant to many types of sterilants. It has a service operating temperature range of -60°F to 250°F
Master Bond UV10MED is easy to use. Its low viscosity makes it advantageous in applications where there is a small clearance between surfaces being bonded. It is 100% reactive and does not contain any solvents or other volatiles. Particularly noteworthy is its rapid cure speed upon exposure to a UV lamp. Typical cure times range from 5-10 seconds to 2-3 minutes at ambient temperatures. A 200 watt/inch medium pressure mercury vapor lamp or equivilant UV light source is recommended.
Master Bond UV10MED has a tensile strength of >4000 psi. It has a Shore D hardness of >60 and an elongation of <5%. It has outstanding electrical insulation properties.
UV10MED has a storage stability of 3 months in original unopened containers at 70°F. It can be purchased for use in ½ pint, pint, quart, gallon and 5 gallon containers. It can also be obtained in syringe applicators.
For Editorial Use
Click below to download this release in the format of your choice.
News Release Images
Click an image to download a high resolution version in JPEG format.