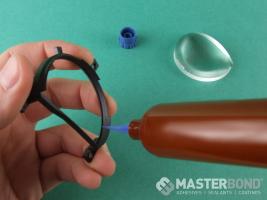 Master Bond Inc., Hackensack, NJ, is pleased to announce the development of a unique one component UV curable modified epoxy system called UV10TKLO-2. This formulation offers optical clarity, high physical strength properties, and has outstanding chemical resistance. It is not oxygen inhibited and cures rapidly at room temperature when exposed to UV light. Maximum UV absorption takes place in the 320-365nm range.
Master Bond UV10TKLO-2 is easy to apply and has an advantageous high viscosity. It has passed the rigorous tests to meet low outgassing specifications as per NASA ASTM E-595. It can be used in a wide array of optical, electro-optical and vacuum applications that until now have been off limits for UV curable compounds. To optimize low outgassing properties, UV10TKLO-2 should be preheated to 50ºC for 15 minutes prior to use and then allowed to cool to room temperature.
Particularly noteworthy is its superior electrical insulation properties. It has a volume resistivity of >1014 ohm cm and a dielectric constant of 3.6 at 60Hz. UV10TKLO-2 has a service temperature range of -60ºF to 300ºF. It is available for use in half pint, pint, quart, and gallon containers. Shelf life in original unopened containers is 6 months at 75ºF.
For Editorial Use
Click below to download this release in the format of your choice.
News Release Images
Click an image to download a high resolution version in JPEG format.