Two component, room temperature curing epoxy for bonding, sealing, coating and encapsulating with low coefficient of thermal expansion
Key Features
Thermally and electrically insulating
Good flow properties
Low shrinkage upon cure
Superior dimensional stability
Product Description
Master Bond EP30LTE-2 is a two part epoxy with an extraordinarily low coefficient of thermal expansion (CTE). It has a forgiving 100 to 5 mix ratio by weight and cures readily at room temperature or more quickly at elevated temperatures. To obtain optimum properties, a good cure schedule is overnight at room temperature followed by 2-4 hours at 150-200°F. The CTE is extremely low, 10-13 x 10-6 in/in/°C. Additionally, it is highly dimensionally stable and electrically insulative. Very significantly, this epoxy has low linear and volumetric shrinkage upon curing.
EP30LTE-2 bonds well to a wide variety of substrates including metals, glass, ceramics and many rubbers and plastics. It is 100% reactive and does not contain any solvents or diluents. This system offers excellent resistance to many chemicals, such as water, fuels and oils, as well as a number of acids and bases. It is serviceable over the wide temperature range of 4K to +250°F. Part A of this system is off white in color and Part B is clear. EP30LTE-2 is especially used in aerospace, optical, electronic, specialty OEM and other applications where low shrinkage, an ultra low CTE along with superb dimensional stability are important requirements.
Product Advantages
Relatively easy processing
100% reactive
Good flow properties
Exceptionally high compressive strength
Cryogenically serviceable
Meets NASA low outgassing specifications
Industrial Certifications
Packaging
EP30LTE-2 is available is various sizes and units to accommodate customer's needs.
Visual Media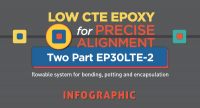 Master Bond EP30LTE-2 has been developed for joining dissimilar substrates exposed to thermally or mechanically induced stresses.
Request Information