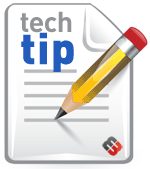 The demand for capacitors that can reliably perform in high temperature applications has sharply increased in the microelectronic industry, particularly for aerospace, defense, transportation and oil, gas and chemical processing applications. Solid tantalum capacitors offer a number of advantages over other types of capacitors, especially when compared to their main rivals, electrolytic capacitors. Tantalum caps:
Offer higher volumetric efficiency, which gives them a smaller size and weight for the same capacitance
Have very low impedance at high frequencies
Have lower DC leakage
Do not wear out or dry out over time, allowing them to offer consistent, stable capacitance over their service life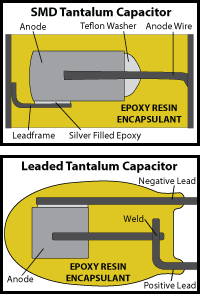 Standard tantalum capacitors typically offer an operating temperature range of -55°C to +125°C. Manufacturers are working to meet industry demands for continuous service of 2,000 hours at 425-450°F. These higher temperatures require enhanced encapsulants, terminations and anode materials that can withstand increased thermal and mechanical stresses, as well as provide enhanced high temperature electrical insulation and improved moisture and corrosion resistance.
Master Bond has developed several high temperature resistant, epoxy resin based encapsulants, adhesives and sealants specially formulated to offer exceptional performance at 400°F (200°C) and above. These new materials encompass both ambient temperature curing and heat curing compositions with excellent electrical insulation and dimensional stability, even in hostile environments. For example, Master Bond EP34AO is a room temperature curing, two component epoxy compound for high temperature bonding and sealing applications where high thermal conductivity is required. Another example is Master Bond EP46HT-2, a two part, electrically insulative, heat cured bonding and casting material with outstanding resistance to high temperatures and chemicals.
Master Bond also offers a wide range of electrically conductive epoxies including Supreme 10HT/S, a one part, heat cured, silver filled epoxy that meets NASA low outgassing specifications and can handle temperatures from 4K to 400°F. All Master Bond formulations can be tailored to best meet your specific service needs. Contact Master Bond's technical staff today to learn more about options for your application.