The graph below shows the lap shear strength of various Master Bond epoxy adhesives for stainless steel to stainless steel. The coupons measured 4 x 1 x 1/16 inch. As preparation, their surfaces were roughened and cleaned with acetone. Supreme 10AOHT and Supreme 10HT present outstanding lap shear strength.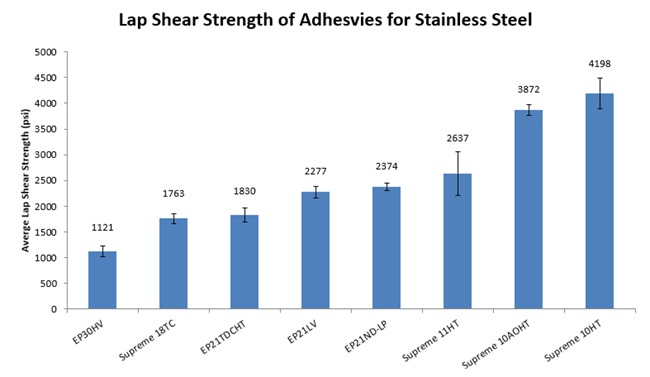 When choosing the proper adhesive, there are many other factors to consider, such as specific processing and operation conditions. For more information on Master Bond high strength epoxy adhesives, please contact our technical advisors.
Disclaimer: The findings in this article are not meant to be used for specification purposes.
High Lap Shear Strength Adhesives for Stainless Steel
Supreme 10HT

One part structural epoxy with high bond strength and excellent adhesion to similar and dissimilar substrates, especially composite materials. Requires oven curing at 250-300°F. NASA low outgassing approved. Serviceable from 4k to +400°F. Tough and durable. 85°C/85% RH resistance.

Supreme 11HT

High peel and shear strength system. Convenient one to one mix ratio. Serviceable from -100°F to +400°F. Superior resistance to impact, thermal shock, vibration and stress fatigue cracking. Excellent toughness. Cures readily at room temperature. User friendly. Dependable dimensional stability. Readily machinable.

Supreme 10AOHT

One part, oven cured epoxy system with excellent thermal conductivity and superb resistance to thermal cycling. Primarily used for bonding of heat sinks and sensors where heat transfer is desirable. Serviceable from 4k to +400°F. Convenient processing.

EP21ND-LP

Two part, room temperature curing epoxy with easy handling and very good physical strength properties. Smooth paste. For bonding, sealing, coating. One to one mix ratio. Chemically resistant. Gap filling. Variable mix ratio allows adjusting hardness of cure. Low shrinkage. Service temperature range from -60°F to 250°F.