Personal protective equipment is extremely important in guarding the face, nose, lips, mouth, hands, eyes, neck, and shoulders from exposure to airborne particles and hazardous liquids. Some examples of PPE are gloves, glasses, gowns, masks, face shields, respirators, and ear plugs. These are used in a wide variety of industrial and medical applications to reduce the risk of injury and spreading infections/illness. They are frequently employed in severe industrial environments to protect against high impact, heat, smoke, arc flash, welding, gas cutting, degreasing, chemical gases/vapors etc. In medical applications, they shield against bodily fluids, coughing, sneezing, and liquid/chemical splashes.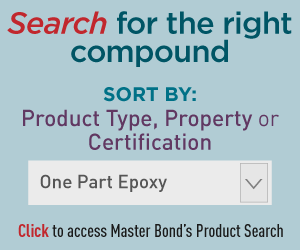 Master Bond has been instrumental in improving the effectiveness of face shields, visors, and glasses / goggles with select grades of specialized adhesive, sealants, and coatings. Transparent, lightweight shields/visors/goggles have been produced most expeditiously in different sizes, shapes, styles for outdoor/indoor usage. Our compounds have been formulated to provide excellent adhesion to polycarbonate, 3D printed PLA, acrylic, and PETG substrates. Highly durable coatings and sealants enable face shield systems to meet difficult performance specifications. UV curable coatings feature optical clarity with scratch resistant properties, and are advantageous for processing because of fast polymerization and no mix requirements. Master Bond also has developed sealants for face shield edges. It is also important to note that both face shields and adhesives/coatings/sealants need to be selected after consideration is given to the type of application & exposure, as well as vision needs.
For health care equipment:
For health care workers, face shields have demonstrated many advantages over safety glasses, goggles and other forms of face/eye protection. Among the most prominent are more comfort, less fogging than goggles, easier disinfection, coverage of wider facial area, no concern with breathing, effortless verbalization between coworkers, and use with other face/eye PPE.
Some examples of our biocompatible products, for use in such applications are:
Products
Certifications
Key Features
EP62-1LPSPMed
USP Class VI & ISO 10993-5 rated, two component heat curing epoxy
Very long pot life
Extremely low viscosity for wicking & porosity sealing
Resistant to many chemicals & sterilization procedures
EP30Med
USP Class VI & ISO 10993-5 rated, two component room temperature curing epoxy
Low viscosity
Optical clarity
Superb moisture resistance
MasterSil 153Med
USP Class VI & ISO 10993-5 rated, two component room temperature curing silicone
Convenient mix ratio (1:1)
High viscosity
High degree of flexibility
Another advanced polymeric compound is a nanosilica filled UV & heat curable epoxy called UV22DC80-1Med. This composition has high optical clarity, exemplary low shrinkage properties, exceptional scratch resistance, and contains no solvents or diluents. Another important requirement in many applications involving face shields would be sterilization resistance as well as resistance to anti-bacterial cleansing agents. Master Bond's two component epoxy EP42HT-2Med has been the go-to epoxy for applications, where resistance to such environments is deemed critical.
For sporting equipment:
Face and eye protection is important in many sports as well. Many sports organizations will only permit participation if members wear sports goggles. From racquetball/squash, swimming, basketball to hockey, biking, sailing, handball, the potential danger from eye injury is extremely high for both children and adults. Since hazards can happen from any direction, goggles provide safe eye protection. It is important to note that eye injuries in sports occur not only from fast moving balls in confined area, but unintentionally from fingers and elbows as well. Master Bond UV curable scratch resistant coatings are frequently applied on polycarbonate and many impact resistant plastics. UV11-3 is extra hard, super abrasion resistant, no mix, fast curing low viscosity liquid that exhibits long term durability and excellent adhesion to polycarbonates.
Adhesives for Face Shields Assembly
EP62-1LPSPMed

Ultra low viscosity, toughened epoxy with superior electrical insulation properties. Thermal stability. Exceptional sterilization resistance. Long working life. Low exotherm. Passes USP Class VI and ISO 10993-5 requirements. Serviceable from -150°F to +400°F.

EP30Med

Biocompatible two component epoxy. USP Class VI approved. Low viscosity. Versatile cure schedules. Resists EtO, gamma radiation and cold sterilants. High strength rigid bonds. Serviceable from -60°F to +250°F. Can be used for indirect food contact per 175.105 FDA specification.

MasterSil 153Med

Paste consistency. Convenient one to one mix ratio. Elongation 400-500%. Highly water resistant. Self priming feature. Meets USP Class VI and ISO 10993-5 requirements. Superior thermal stability. Resists vibration, shock. Serviceable from -65°F to +400°F.

UV11-3

Extra-hard, super abrasion resistant, optically clear coating. 100% solid system. Superior adhesion to polycarbonates, polymethylmethacrylates and polyvinylchlorides. Viscosity 60 cps at 75°F. High resistance to staining and many common chemicals.

UV22DC80-1Med

Dual cure system with UV and heat curing mechanisms. Cures at 80°C in shadowed out areas. Nano filled, high dimensional stability and abrasion resistance. Bonds well to metals, glass, ceramics and most plastics. Serviceable from -60°F to +350°F.