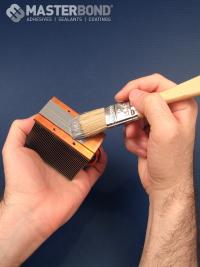 Master Bond EP30FLAO is a two component epoxy resin system for high performance potting, bonding, sealing and coating. It is extremely versatile and can be used in a wide variety of cryogenic applications. This low viscosity epoxy with excellent flow characteristics makes it ideal as a thermally conductive potting compound. It is widely used in the electronic, electrical, computer, metalworking, appliance and chemical industries where electrical insulation, environmental protection and heat transfer is required.
EP30FLAO features a wide service temperature range of 4K to 250ºF. Its thermal conductivity is 9-10 BTU/in/ft²/hr/ºF. The viscosity of the mixed compound is 5,000 to 6,000 cps at 75ºF. In addition to these attractive attributes, it has a low thermal expansion coefficient, superior dimensional stability, good physical strength and toughness.
Parts A and B are available in half pint, pint, quart, one gallon and five gallon containers.
For Editorial Use
Click below to download this release in the format of your choice.
News Release Images
Click an image to download a high resolution version in JPEG format.