One and two component Master Bond metal/glass adhesive compounds feature excellent strength properties. Available in a range of viscosities and cure speeds these products adhere soda-lime glass, borosilicate glass, fused silica glass, aluminosilicate glass to metals such as aluminum, titanium, copper, steel, cast iron and invar. Special consideration to differences in thermal expansion coefficients is needed to ensure proper adhesive selection.
Rapid Curing High Strength Epoxy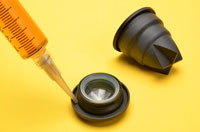 Offering high temperature resistance up to 400°F, Master Bond EP3HT is a one component adhesive/sealant that withstands thermal cycling and many harsh chemicals. After curing, EP3HT readily obtains a tensile shear strength in excess of 2,100 psi. It can be applied to vertical surfaces without sagging or dripping and is frequently used for glass to metal bonding.
High Temperature Resistant Epoxy Offers Optical Clarity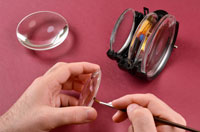 Featuring high light transmission properties, EP30HT resists temperatures up to 400°F. It conforms to Title 21, FDA Chapter 1, Section 175.105 for indirect food applications. It exhibits impressive physical strength and excellent adhesion to both similar and dissimilar substrates. With a very low shrinkage after cure, it forms bonds that are rigid and resistant to chemicals. EP30HT has a four to one mix ratio by weight and is available in convenient syringe and gun applicators.
Optically Clear Adhesive, Sealant and Coating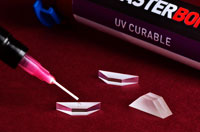 UV15-7 delivers superior physical strength properties, low shrinkage upon curing and good non-yellowing stability. This system bonds well to a wide variety of similar and dissimilar substrates including glass and metals. Other notable features include outstanding durability, good electrical insulation properties, and thermal cycling capabilities.
NASA Low Outgassing Approved Epoxy System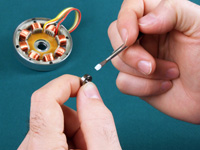 Supreme 11HT-LO combines both high shear and peel strengths along with superior resistance to impact, thermal shock, vibration and stress fatigue cracking. Tensile lap shear strengths in excess of 2,000 psi and T-peel strengths of greater than 15 pli are readily obtained. Also, its adhesion to metals and glass is excellent. This two part epoxy produces durable, exceptionally tough bonds which are remarkably resistant to severe thermal cycling and many chemicals including water, oil, fuels and some organic solvents, even upon prolonged exposures.
Adhesive Applications and Uses
Our glass/metal adhesive systems are designed to speed processing, improve productivity, enhance quality and lower costs. They are widely employed in the optical, fiber-optic, laser, microelectronic, automotive and appliance industries. They can be manually, semi-automatically or automatically applied. Custom packaging options for small to large quantities consists of syringes, cartridges, gun applicators and flexible divider pouches. Premixed and frozen syringes ranging from 1cc to 5cc to 10cc provide easy dispensing for two component epoxy systems. Products are ROHS compliant.