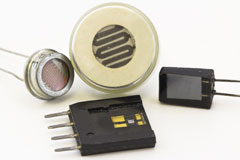 The use of sensor technology has exploded in the chemical, automotive, electronic and optical industries. Master Bond's line of one and two component epoxies, silicones, UV-curables and latex systems provide superior protection against harsh environmental conditions such as moisture, abrasion, elevated temperatures, shock, vibration and corrosion. Our custom-formulated products can be specially formulated to meet your specific application needs such as dimensional stability, non-yellowing properties, optical clarity, cryogenic serviceability and much more. Master Bond epoxies are available in flexible or rigid formulations and offer the very best in chemical resistance.
Master Bond products are great for use in sensors that detect heat, force, density, pressure, light flow, fluid velocity, sound, vibration, distance, speed, angles, etc. Specific examples for various industries are as follows:
Automotive
Engine coolant temperature sensor
Radar gun
Tire pressure monitoring sensor
Pressure sensor
Brake sensor
Rain sensor
Chemical
Carbon monoxide detector
Electrochemical gas sensor
Oxygen sensor
Smoke detector
Potentiometric sensor
Ozone monitor
Electronic/Electrical
Metal detector
Air speed indicator
Gyroscope
Magnetometer
Voltage tester
Current sensor
Medical & Healthcare
Digital temperature sensor
Pulse oximeter sensor
EGG sensor
Blood glucose sensor
Humidity sensor
Imaging sensor
Optical
Electro-optical sensor
Infra-red sensor
Fiber optic sensor
CMOS sensor
Photodiode
Wavefront sensor
Additional end use markets include security, aerospace, power generation, process control and leisure/entertainment.
Master Bond has contributed to the development of sensors offering improved accuracy/reliability, reduced size, weight, power consumption, more functionality for wireless networks at lower costs. Many significant technical barriers have been overcome assuring operation under challenging conditions. This has enabled miniaturized sensors to meet demanding standards and utilization in growing market segments including smart metering, biometrics, fungal detection, pest infestation, marine spill response and corrosion monitoring.
From die attach adhesives to conformal coatings to thermal interface materials to underfills to scratch resistant hard coats Master Bond has a portfolio of job proven products for sensor manufacturing companies. Durable, dependable, high strength systems lead the way in imparting long lasting efficient performance. These compounds can be accurately dispensed uniformly and simplify high volume production. Select flowable/nonflowable systems are electrically conductive, flame resistant, low stress, cure rapidly at room/low temperatures and resist immersion in a diverse range of solvents, acids, fuels, oils, cleaning agents. Recently introduced nanofilled compositions feature enhanced capabilities.
Master Bond provides cutting edge formulations for both contact and noncontact temperature sensors. From thermocouples to thermisters to resistance temperature detectors (RTDs) to infrared sensors, our adhesive compounds are vital for measuring heat/coldness of objects/systems, monitoring any variations and managing the effects of any changes that may occur. Different types of temperature sensors have proven advantageous increasing output, production speed, enhancing quality, and improving safety. They have been successfully placed in hazardous and inaccessible locations. Master Bond has sided with manufacturers in customizing temperature sensors to meet unusual application requirements. These systems are presently employed in fluid pumping equipment, heat exchangers, motors, food processing machinery, under the hood of automobiles, medical devices and ovens.
Adhesives for Sensor Applications
UV15DC80Med

USP Class VI approved one component UV and heat curable epoxy. Passes ISO 10993-5 cytotoxicity testing. Cures at temperatures as low as 80°C. Moderate viscosity. Minimal shrinkage upon cure. Capable of withstanding liquid sterilants, radiation, autoclaving. Serviceable from -60°F to +400°F.

MasterSil 151TC

Optically clear, addition curing potting, encapsulation, sealing compound. Low shrinkage upon cure. Resists up to +400°F [+204°C]. Shore A hardness 50-60. Highly resistant to water. Long pot life. Primarily in thermal management applications.

EP37-3FLFAO

Flexible, low viscosity, thermally conductive epoxy. Meets NASA low outgassing specifications. Superb electrical insulator. Good physical strength. Chemical resistant. Long working life. Withstands 1,000 hours 85°C/85% RH. Guards against mechanical shock and vibration. Excellent flowability. Ideal for potting and casting.

EP30Med

Biocompatible two component epoxy. USP Class VI approved. Low viscosity. Versatile cure schedules. Resists EtO, gamma radiation and cold sterilants. High strength rigid bonds. Serviceable from -60°F to +250°F. Can be used for indirect food contact per 175.105 FDA specification.

EP21TCHT-1

Two part, room temperature curable epoxy system with high thermal conductivity. Serviceable from cryogenic temperatures up to +400°F. Electrically isolating. Meets NASA low outgassing specifications. Halogen free. Paste consistency. Formulated to cure at ambient temperatures. Withstands 1,000 hours 85°C/85% RH.

EP21TDCN-LO

Two component nickel conductive epoxy featuring high peel strength, superior toughness and low volume resistivity. Withstands thermal cycling. Meets NASA low outgassing specifications. The service temperature range is -100°F to +275°F.