Our adhesives improve viewability and display performance. They minimize light loss due to reflection, boost contrast ratios and resist UV light exposure. They feature no fogging, superior gap filling properties and can be applied on non-flat substrates. Specific surfaces include:
PMMA
PC
PET
Glass
ITO glass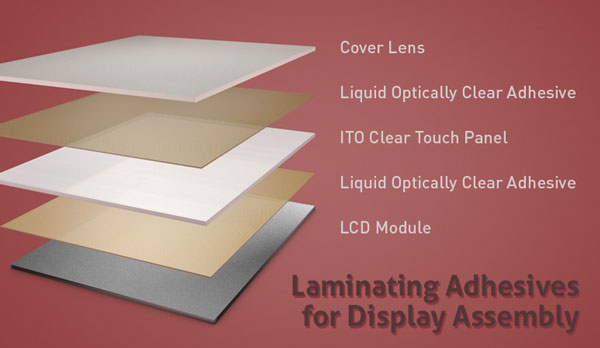 Products reduce mura defects, have low shrinkage and are reworkable. Specific grades cure in shadowed out areas. Bonds are highly reliable and are formulated to extend product life, increase impact resistance, magnify brightness, lower power consumption and fortify customer satisfaction. Display manufacturers are able to design thinner, larger panels and automate assembly operations to optimize productivity.
Durable Liquid Optically Clear Adhesives Speed Processing and Enhance Performance
Index matching, shock absorbing ruggerized Master Bond UV curable compounds are being employed to laminate protective glass or touchscreens to LCDs. They shorten assembly cycle times, keep out dust/moisture, allow precise positioning and provide structural integrity for bonded surfaces. These easy flowing bubble/particle free solventless no-mix formulations assure consistent resistance to thermal cycling. Mated substrates will not degrade or delaminate after long term high/low temperature aging. Utilization of single or multiple nozzle dispensers can efficiently apply adhesives and lower manufacturing costs.