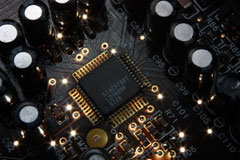 High performance, one component, no mix silicone systems feature high elasticity and temperature resistance. They are UL listed with a flame classification for 94V-1 for the thickness of 0.75mm and 94V-0 for a 3 mm thickness.
Key Benefits of Master Bond Flame Retardant Adhesive/Sealant
These compounds are presently employed in transportation, electronic, appliance and electro-optic applications. Advantageous properties include:
Non-flammable
Non-corrosive
Serviceable from -45°C to +200°C
Fast curing
Superb bond strength
Excellent electrical insulation properties
Most Popular Flame Retardant Silicone Products
MasterSil 707FR

One component non-corrosive paste produces fast cures at room temperature. Passes UL 94V-1 and 94V-0 testing for flame retardancy. Outstanding adhesion to metals, ceramics, glass and many plastics. Exceptionally soft.

MasterSil 708FR

Flowable, no mix, one component RTV silicone compound. Shore A Hardness 30-40. Fast setting at room temperature. Meets requirements of UL 94V-1 and 94V-0 for flame retardancy. Elongation of 200-300%. Gray color.