Stainless steel is available in many different grades. It offers exceptional resistance to corrosion and oxidation. Durable, high strength, aesthetically appealing, low maintenance and high/low temperature serviceability are among its many advantageous properties. It also is easily cleaned and sanitized. 100% recyclable stainless steel is noted for its ease of fabrication.
Used in a wide variety of industries, specific applications include:
Surgical instruments
Refrigeration equipment
Machine parts
Storage tanks
Passenger rail cars
Brewing equipment
Exhaust systems
Pressure vessels
Master Bond formulates adhesive systems to bond stainless steel to stainless steel and stainless steel to dissimilar substrates. These epoxy and polyurethane adhesive systems have convenient cure schedules, are easy to apply and can withstand exposure to harsh environments.
The chart below shows the average lap shear strength in psi for the Master Bond systems noted for bonding stainless steel.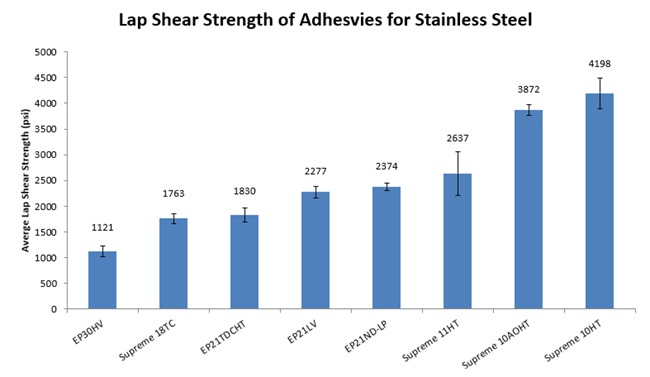 *Stainless steel was roughened and cleaned with acetone.
Read our guide to learn more about proper surface preparation for bonding metals.
Consideration for Bonding Stainless Steel Substrates - Fast Cure Speed
Most popular fast curing adhesive systems include EP41S, SteelMaster 43HT, Supreme 3ANHT and EP51FL. Chemically resistant EP41S can withstand exposure to solvents, alcohols and fuels. Master Bond SteelMaster 43HT is a stainless steel filled two component epoxy offering high compressive strength and serviceability up to 400°F. Thermally conductive, electrically insulative Supreme 3ANHT requires no mixing and cures rapidly at moderate temperatures. EP51FL is cryogenically serviceable, has a convenient one to one mix ratio and is tough.
Select Adhesives Tested for Lap Shear Strength for Stainless Steel Bonding
Supreme 10HT

One part structural epoxy with high bond strength and excellent adhesion to similar and dissimilar substrates, especially composite materials. Requires oven curing at 250-300°F. NASA low outgassing approved. Serviceable from 4k to +400°F. Tough and durable. 85°C/85% RH resistance.

Supreme 10AOHT

One part, oven cured epoxy system with excellent thermal conductivity and superb resistance to thermal cycling. Primarily used for bonding of heat sinks and sensors where heat transfer is desirable. Serviceable from 4k to +400°F. Convenient processing.

Supreme 11HT

High peel and shear strength system. Convenient one to one mix ratio. Serviceable from -100°F to +400°F. Superior resistance to impact, thermal shock, vibration and stress fatigue cracking. Excellent toughness. Cures readily at room temperature. User friendly. Dependable dimensional stability. Readily machinable.

EP21ND-LP

Two part, room temperature curing epoxy with easy handling and very good physical strength properties. Smooth paste. For bonding, sealing, coating. One to one mix ratio. Chemically resistant. Gap filling. Variable mix ratio allows adjusting hardness of cure. Low shrinkage. Service temperature range from -60°F to 250°F.

EP21LV

Epoxy adhesive, sealant, coating resists acids, alkalis and many solvents. Low viscosity room temperature curing. Contains no solvents. Serviceable from -60°F to +300°F. Castable to thicknesses exceeding 2-3 inches. Excellent electrical insulator.